India woman burned to death during argument in Hyderabad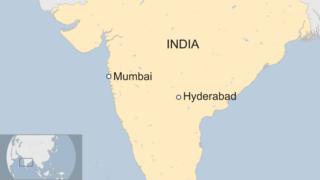 Police in the southern Indian city of Hyderabad say they have arrested a man after a woman was burned to death during an argument.
Sandhya Rani, a 25-year-old receptionist, was on her way home when she was attacked at about 18:00 local time (12:30 GMT) on Thursday, police told the BBC.
People rushed to help Ms Rani but she died on her way to hospital.
The accused, Karthik Vanga, 28, is a former colleague.
He used to work in the same company as Ms Rani until a few months ago, police told BBC Telugu's Deepthi Bathini.
When he approached her on Thursday, the two were seen arguing before the man pulled out a can of kerosene, poured the fuel on her and set her alight, police alleged.
They said there had been allegations that Mr Vanga had been pursuing Ms Rani with marriage proposals for two years. She had repeatedly rejected the proposals but police said it was unclear whether any complaint against him had been lodged.
Scrutiny of violence against women in India has grown since the 2012 gang rape and murder of a student on a Delhi bus, and has led to the formulation of tougher laws aimed at dealing with such attacks.
However, brutal attacks against women and children continue to be reported across the country.
According to government figures, there are hundreds of attacks against women involving acid each year in India - campaigners say they are often targeted by jealous partners or stalkers.