India: Second Mumbai building fire in a week kills four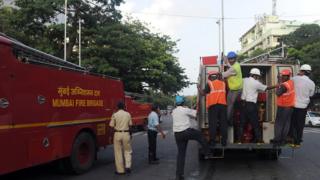 Four people, including two children, have died in a fire that broke out in a residential building in the western Indian city of Mumbai.
The fire started at around 1:30am Indian time (20:00 GMT) in the building in the city's Marol area.
The fire department told BBC Marathi they had rescued 17 people who were now receiving treatment in local hospitals.
The incident comes a week after 15 people died in a fire at a popular rooftop restaurant in the city.
Deadly fire hits Mumbai shopping complex
Twelve die in Mumbai sweet shop fire
Officials said the exact cause of the fire in the residential building was unknown. They added that an investigation had begun.
Experts say that two fire incidents within a week have raised serious questions over the safety standards of Mumbai buildings. The city also witnesses frequent building collapses that are often fatal.
Property prices and rent in Mumbai are among the highest in Asia.
But the BBC's Suranjana Tewari says high quality housing in the city is in short supply and so people have no choice but to live in sub-standard and crowded buildings.