Aanchal Thakur: Accolades for India's first skiing medallist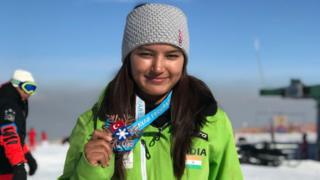 A 21-year-old woman has become the first Indian to win a medal at an international skiing event, prompting celebration on social media.
Aanchal Thakur won a bronze medal at the Alpine Ejder 3200 Cup in Turkey, which was organised by the International Ski Federation (FIS).
Winter sports do not get much recognition in India, given that much of the country does not see snowfall.
Thakur told BBC Hindi she was still in disbelief over her achievement.
Speaking to BBC Hindi's Indu Pandey, she said that when she was announced as a competitor it had caused surprise in Turkey, with many asking her if it really snowed in India. She responded by saying: "The Himalayas are here, so why not?"
Prime Minister Narendra Modi was among the first to congratulate her.
In a tweet, Mr Modi said "the entire nation is ecstatic" over Thakur's "historic accomplishment".
Thakur said that she was very excited to see the prime minister's tweet and that his recognition could be a boost for the sport in India.
She was trending on Twitter on Wednesday and many Indians, including the country's sports minister, Rajyavardhan Rathore, have taken to Twitter to offer their congratulations.
Roshan Thakur, who is Thakur's father and the secretary general of the Winter Games Federation of India (WGFI), also told BBC News that he hoped his daughter's medal would help raise the profile of winter games in India.
"I saw the prime minister and sports minister had both tweeted and congratulated her. This is a very positive sign and hopefully it will encourage more people to take winter games seriously," he said.
Aanchal Thakur, a resident of Manali in the northern Indian state of Himachal Pradesh, won the medal in the slalom.
She told the Times of India newspaper that months of training had paid off, adding she was able to get her third-place finish because she got a good start in the race.