Padmavat: Violence after India top court lifts ban on film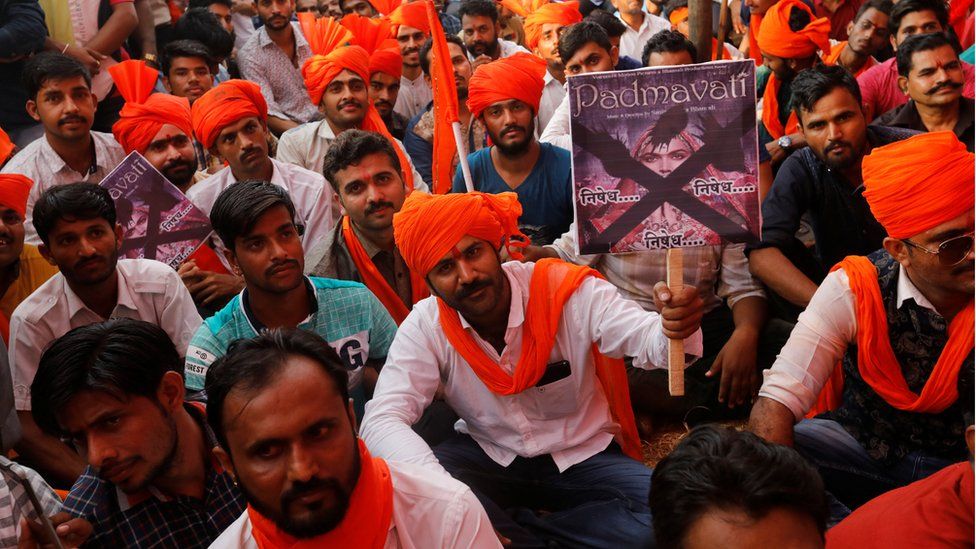 Protesters in India's Gujarat have blocked roads and caused local bus services to be suspended, after the Supreme Court cleared the release of controversial Bollywood film Padmavat.
Extremist Hindu groups torched buses and vandalised a theatre in the western state of Gujarat on Sunday.
Despite the court ruling and tightened security, theatre owners in the state have decided against screening the film as they fear further violence.
Padmavat will release on 25 January.
The film tells the story of a 14th Century Hindu queen belonging to the high Rajput caste and the Muslim ruler Alauddin Khilji. Bollywood stars Deepika Padukone and Ranveer Singh play the lead roles.
Hindu groups and Rajput caste organisations allege that the movie, directed by Sanjay Leela Bhansali, depicts an intimate romantic scene between the two characters, which they say "disrespects" her character. The producers of the film deny this.
Last week, the court cleared the film's release and overturned the decision by four states to ban its screening.
Two Rajput groups in Gujarat - Karni Sena and Mahakaal Sena - have been at the forefront of protests in the state which has also seen service on more than a 100 bus routes suspended.
Earlier this month, the Central Board of Film Certification (CBFC) screened the film to historians, who suggested five modifications. One of them included changing the film's name from Padmavati to Padmavat, after the 16th Century epic poem of the same name.
Lawmakers from the states of Madhya Pradesh and Rajasthan have filed urgent petitions before the Supreme Court, asking that they be allowed to reimpose the ban, as they fear further violence. The court has agreed to hear the petitions later on Monday.
"With the Supreme Court directive that the film should be screened, the government here should display urgency in ensuring that the movie is not released in Gujarat," Raj Shekhavat, one of the leaders of Karni Sena told an Indian news channel on Monday.
In its ruling last week, the court said that the states should not have banned the film as it had already been cleared by the censor board.