Justice for Sreejith: Indian ends protest after 782 days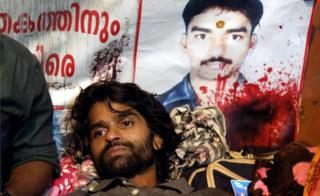 A man from the south Indian state of Kerala has ended a 782-day protest after a federal agency began investigating his brother's death.
SR Sreejith alleges his brother was murdered by police who arrested him on the charge of stealing a mobile phone.
His demand for an independent inquiry into his brother's death picked up in recent months through the social media movement #JusticeforSreejith.
He ended the protest after federal investigators recorded his statement.
In the face of mounting public pressure, state lawmakers ordered an internal police investigation into his brother's death. But Mr Sreejith refused, insisting that the case be transferred to India's federal investigation agency, the Central Bureau of Investigation (CBI).
Police had said Sreejeev, 26, committed suicide in custody after he was arrested, but his family says he was killed because he was in love with a woman who happened to be related to one of the police officers.
Read more: Indian protester becomes social media hero
He was arrested one day before she was scheduled to get married to someone else. He died in hospital the following day where he was admitted as a result of the "suicide attempt".
Human Rights Watch (HRW) said in an August report on India that suicide and illness are common causes listed by authorities to cover up deaths likely caused by police torture.
In a country only too familiar with police brutality and custodial deaths - India's National Crime Records Bureau says 591 people died in police custody between 2010 and 2015 - his protest generated particular resonance.
In the past few weeks and months, pictures of him and his protest have been shared widely on Facebook and Twitter along with messages of solidarity, including from some very high profile figures in the state.