Crowdfunding pays hospital bills of injured India girl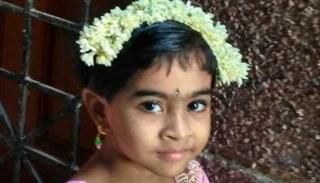 A crowdfunding site in India has raised more than 1.6 million rupees ($24,976; £17,680) for a four-year-old girl who was critically injured after a drunk man fell on her from a three-storey building.
The girl, Dhanyashri Sridhar, is still recovering in hospital.
The fund, only a week old, has received money from more than a thousand people.
It was launched by a group of young men who live in the same neighbourhood as the Sridhars in Chennai city.
"It feels good to know she is recovering," said Sathish Kumar Mohan, one of the men who helped launch the crowdfunding campaign.
Mr Mohan, a 30-year-old software engineer, told the BBC that he and his friends found out about the accident through a group on WhatsApp.
The group has about 20 participants, all of whom live in the neighbourhood of Old Washermanpet. One of the members messaged on 30 January, saying a little girl had been badly injured and her family needed help.
Mr Mohan said this was not unusual because they had collected money or mobilised help in the past by spreading messages through WhatsApp groups.
Messages on WhatsApp, especially on groups, travel quickly in India where the messaging platform has more than 200 million monthly active users.
But this time, Mr Mohan said, they needed a lot more money. Dhanyashri had fractures in her spine and her legs, and she also needed surgery.
That's when some of Mr Mohan's friends suggested creating an online campaign that would crowdsource funds. "They told me, it will help you reach out to many more people," he said.
Mr Mohan first contacted the girl's father, A Sridhar, over the phone. Then he met him personally to explain that they were raising money to help Dhanyashri.
Mr Sridhar told the BBC that he hopes his daughter will recover soon. He added that he wanted to thank everyone for the money they have contributed.
The campaign was launched on 31 January with photos of Dhanyashri and details of what happened.
It's done "exceptionally well" considering it only launched on January 31, Arti Rajan, the communication officer for the crowdfunding platform, told BBC.
She said the donations varied from $1.56 to $780. Now, the fund is just $6,000 short of its target: $31, 200. It has 24 days left to reach the goal.
He is still in touch with Dhanyashri's father, Mr Sridhar.
"I spoke to him last night and he told me she woke up and recognised her sister," Mr Mohan said. "He said she is eating again and they gave her some dosa with milk."