Suspected militants storm Kashmir hospital to free prisoner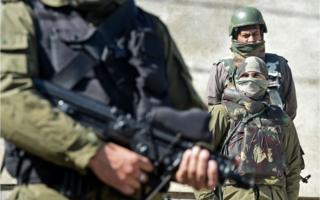 Gunmen have stormed a hospital in Indian-administered Kashmir, escaping with a high-profile Pakistani prisoner who was undergoing a medical check-up.
Two Indian police officers have been killed in the attack on Tuesday. No civilians or hospital staff were injured.
Police said a manhunt has been launched for the prisoner, Naveed Jutt, who has been in Indian custody since 2014.
Jutt is a former commander in the Lashkar-e-Taiba militant group.
Police told the BBC that Jutt was one of six prisoners who had been taken to the Shri Maharaja Hari Singh Hospital in Srinagar, the state capital, for a medical examination.
He was the only Pakistani national in the group.
India and Pakistan have fought three wars and a limited conflict - all but one were over Kashmir.
Relations between the nuclear-armed neighbours have worsened in recent times.
The Indian Army has alleged that Pakistan violated the ceasefire along the de facto border in Kashmir 860 times in 2017, with December alone accounting for 147 violations.
Pakistan counters that Indian troops violated the ceasefire more than 1,900 times last year.
It is hard to apportion responsibility for ceasefire violations, which have continued in 2018.