Kidnapped schoolboy rescued in India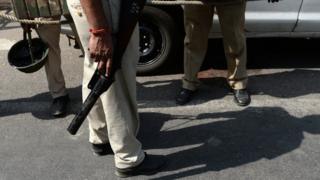 A five-year-old child has been rescued more than a week after he was kidnapped from a school bus in India's capital Delhi last month.
Police raided an apartment in Ghaziabad in the northern state of Uttar Pradesh and fatally shot one of the three suspects.
Two men on a bike intercepted the bus and kidnapped the boy on 25 January.
The child's family later received a ransom call for 6m rupees (£66,983; $93,550).
It is not clear whether the family negotiated with the kidnappers or if money was paid to them.
Police said they were tipped off about an apartment building in which three men and a child had been recently spotted, which they found unusual and decided to investigate further.
Once they got to the location, the suspects opened fire on them which resulted in a shoot-out. But the child was not harmed, and has been returned to his family, an officer confirmed.