The Indian women who found a life-changing sport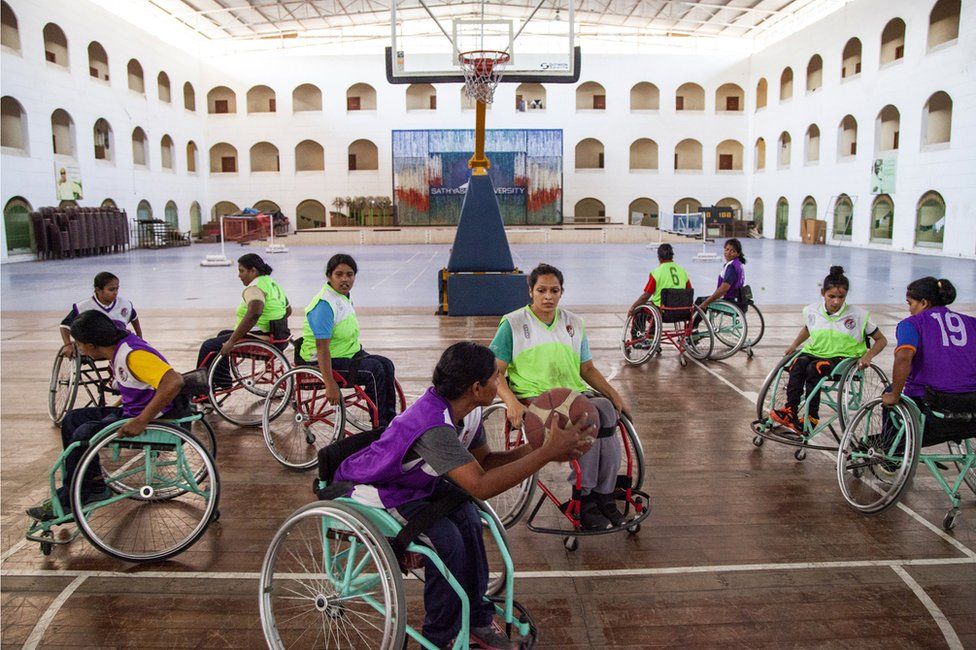 In a spacious courtyard in a college in India's southern city of Chennai, women in wheelchairs dart around a basketball court, shouting instructions.
They are in trials for the Asian Para Games qualifiers, which will be held in Thailand in March 2018.
Photojournalist Hari Adivarekar spent a few days with the players as they competed for a spot in India's national women's wheelchair basketball team.
This is the first time an Indian women's basketball team is competing in an international para-tournament. If this Indian team makes it to the finals in Indonesia in October, they have a shot at the next Paralympic Games, scheduled for 2020.
The women practised for seven hours a day during the trials, which lasted for nine days. Here, as part of a strengthening exercise, they race in fours with one player pulling three others.
Calloused hands blackened by grime from the wheels are a part of wheelchair basketball, the players said. With no access to toilets, they often wash their hands in buckets filled with water.
Rekha (L), 16, who goes only by her first name, is the youngest player to participate in the trials for the national team. She was disabled when she was just a year old but started using a wheelchair only three years ago. But she's seen as a rising star and considered to be one of the fastest players.
"Nothing is impossible for us," she said.
Anthony Pereira, 68, is a former engineer in the military and the head coach of both the men's and women's wheelchair basketball teams. He has been a para-athlete since 1971 when he was injured during a war between India and Pakistan.
"I felt the need to do something, so I started a new innings as a basketball player," he said. "As I got older, I felt a need to do something for people like me so I started coaching."
"Sport saved my life," said Madhavi Latha, president of the federation. There needs to be greater awareness about sports for the disabled, she said, because the lack of awareness deeply impacts funding, which worries Ms Latha.
The federation is currently struggling to raise 450,000 rupees (£5,020; $7,013) to buy flight tickets to Thailand for the 15-member team.
The players from India's southern state of Tamil Nadu share a laugh between practice games. Although the women appreciate the opportunities the sport has brought them, they said they still face several challenges as players.
Hotels, vehicles and toilets in India are largely inaccessible for those who use wheelchairs. The federation too is pressed for funds, leaving the players to manage with sub-par sports wheelchairs because importing whole wheelchairs or certain spare parts is expensive.
Hima Kalyani (L) and Manisha Patil (R), both players from the southern state of Karnataka, make the daily one kilometre trek from their hostel to the basketball court, a journey that takes them past potholes and through speeding traffic.
According to the 2016 census, India has around 5.5 million people - including 2.1 million women - living with disabilities related to mobility.
Kartiki Patel, 34, (facing the camera), is the team captain. She was left with a severe spinal injury after a car accident in 2008.
"I used to be a basketball player before the accident but when I first started, there were very few women, so I switched to badminton. Then I came back to basketball," she said.
Players, administrators and coaches all spoke of how wheelchair basketball has changed their lives, enabling them to live with independence and dignity.
But, Ms Patel said, they still needed better wheelchairs.
Hari Adivarekar is an independent photojournalist based in Bangalore and Mumbai.