India: Cochin shipyard blast kills five people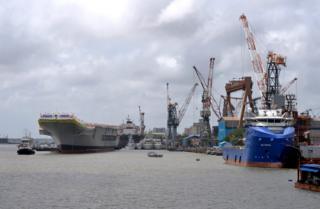 Five people have been killed in a blast in a shipyard in the southern Indian state of Kerala, officials said.
The explosion occurred on Tuesday morning on board a ship that was docked at the Cochin port for repairs.
Police told BBC's Ashraf Padanna everyone else on board was rescued, the situation was "under control" and they did not expect further casualties.
The government-owned shipyard is used to repair some of the largest vessels in the country.
Police said three of those rescued are undergoing treatment for burns, adding the deaths had been caused by smoke inhalation.
The vessel on which the blast occurred is a drilling ship owned by India's biggest oil explorer, Oil and Natural Gas Corporation (ONGC).