India designer sorry over 'insulting' sari remark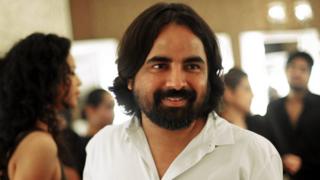 Indian designer Sabyasachi Mukherjee has apologised for saying that Indian women who do not know how to wear a sari, a traditional garment, should feel shame.
He made the remark at an event at Harvard University last week.
The comment prompted backlash on social media, with women calling it patriarchal and discriminatory.
In an open letter posted on Instagram on Wednesday, the designer said he regretted his choice of words.
Saris, worn every day by millions of Indian women, are lengths of wide fabric that are wrapped around the waist and then draped over one shoulder.
"I think, if you tell me that you do not know how to wear a sari, I would say shame on you. It's a part of your culture, you need to buck up and stand up for it," said Mr Mukherjee, speaking at the Harvard India Conference.
Mr Mukherjee, one of India's most sought after fashion designers, counts many high-profile Bollywood actresses among his clients.
But later he said his remarks were not intended to disrespect anybody. "I am sorry that I used the word 'shame' in reference to some women's inability to wear a sari," the designer wrote in his apology.
"I truly regret that the way in which I tried to make a point about the sari enabled it to be interpreted as misogynistic, patriarchal, and non-inclusive - this was certainly not my intention."
He said he was responding to a question from an audience member who asked if wearing a sari was "taboo" among young women who felt the garment made them seem older.
Before his apology, many women had taken to social media, describing his remark in the US as misogynistic and an insult to the sari.