India woman dies after hair caught in go-kart wheel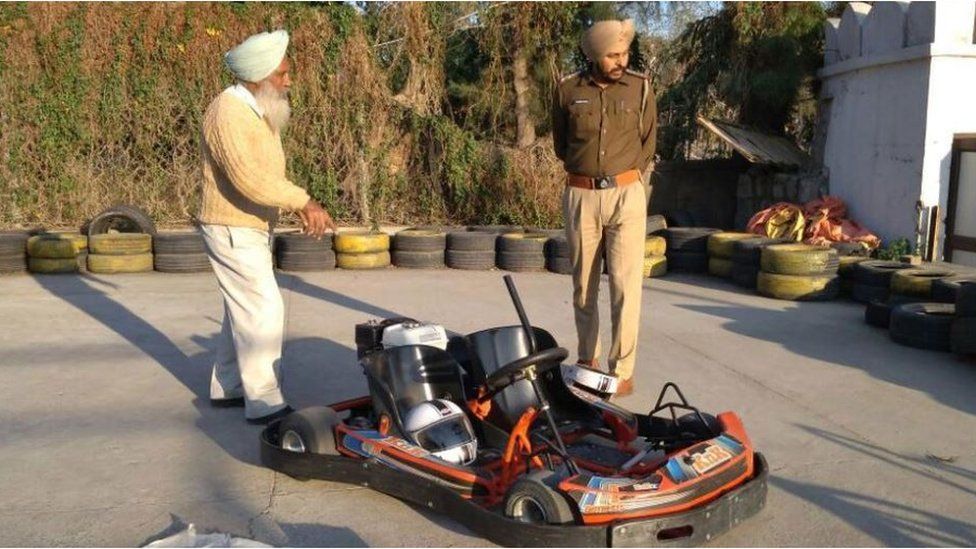 An Indian woman has died in an amusement park in the northern state of Haryana, after her hair got tangled in the wheels of a go-kart.
The 28-year-old woman, Puneet Kaur, was on holiday with her family at the time of the accident.
She was taken to a nearby hospital, but was declared dead on arrival.
Police told BBC Punjabi that they would be investigating the incident, while the park in Pinjore has closed its go-kart track.
Ms Kaur and her husband were in the go-kart when her hair became stuck in the wheel. As the go-kart continued moving forward, her scalp was ripped from her head, police said.
"The exact cause of death is unclear, but we will know after we receive details of the post mortem report," a police officer told the BBC's Arvind Chhabra. No arrests have been made yet.
Ms Kaur was wearing a helmet and had her hair up in a bun, according to local reports.
A manager of the go-kart station said that they had followed all the security measures, which included the use of proper head gear. "We gave a rubber band and a helmet to the woman," Sushil Kumar told The Indian Express newspaper, adding that it was an "accident".
According to the newspaper, Ms Kaur's husband told police: "My wife and I were enjoying the ride on the go-kart. Suddenly, my wife's hair got loose and I heard her scream... I do not know the quality of the rubber band and the helmet given to my wife."
Go-kart accidents are rare in India, and this incident has left many in the country shocked.