India woman held for 'posing' as groom for a dowry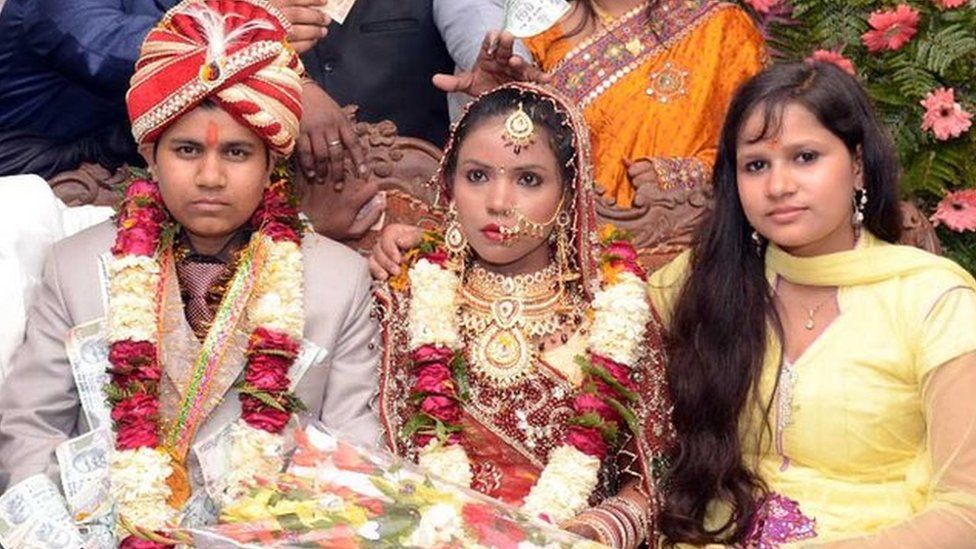 Police in India have arrested a woman who allegedly posed as a man and duped two women into marriage for dowry.
Krishna Sen was arrested on Wednesday in the northern state of Uttarakhand for demanding dowry, which is illegal in India.
Police told the BBC that it was revealed during the interrogation that Krishna was a woman.
They believe Ms Sen, 26, formerly known as Sweety, has been masquerading as a man since 2014 when she first married.
"At first we failed to understand what Krishna was saying," senior police officer Janamejay Khanduri told the BBC.
"We conducted a medical examination and found that Krishna is female."
Ms Sen reportedly separated from her first wife soon after the wedding, and married another woman in April 2017.
But her former in-laws lodged a police complaint accusing her of harassing their daughter for a dowry. They also alleged that she had borrowed 850,000 rupees ($13,200; £9,500) from them to start a business and had not returned the money.
Paying and accepting dowry is a centuries-old South Asian tradition where the bride's parents gift cash, clothes and jewellery to the groom's family. Although the practice has been illegal in India since 1961, it continues to thrive.
Police said Ms Sen told them she had always wanted to be a boy and live a "man's life", adding that it was unclear if Ms Sen's parents were aware of what she had been doing.
Both the women she married didn't seem to have suspected her. Ms Sen reportedly never disrobed in front of them, and according to the police, she was never sexually intimate with them.
She mostly had male friends, used men's toilets, and spoke in a different tone of voice, police said. She also reportedly smoked, drank alcohol and drove a motorcycle with her male friends to ward off any suspicion.
"With male hairstyle, dress and behaviour, Krishna used to live a male life. Nobody ever doubted Krishna," another police officer said.
She even walked like a "confident man", he added.