Justin Trudeau in India: Is the Canadian PM being cold-shouldered?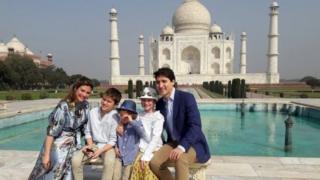 Canadian Prime Minister Justin Trudeau's first official visit to India has not been the headline-grabbing love fest he must be accustomed to on his overseas trips.
Despite plenty of photo opportunities, including at the Taj Mahal, Mr Trudeau and his family's tour has been largely ignored by senior members of the Indian government so far.
When he arrived in the capital, Delhi, he was met at the airport by a junior minister in what many interpreted to be a "snub".
Prime Minister Narendra Modi has, on many occasions, personally received visiting government leaders. He also famously hugs his foreign counterparts.
Most recently Mr Modi extended the courtesy - both the personal reception and the hug - to Israeli Prime Minister Benjamin Netanyahu who visited in January.
But Mr Modi has not yet met the Canadian prime minister, despite him being in India for two days.
He was also absent when Mr Trudeau visited his home state of Gujarat on Monday.
And it's not just the prime minister.
When Mr Trudeau visited the Taj Mahal on Sunday, some media reports pointed to the fact that the chief minister of Uttar Pradesh, where the monument is located, did not go to greet the visiting premier.
The pictures, headlines and social media frenzy that usually accompany Mr Trudeau's overseas travels have also been largely missing.
So is India really cold shouldering Justin Trudeau? And if so, why?
"Yes, this is a major snub. The fact that a junior minister was sent to receive Mr Trudeau and his family is most definitely a snub," columnist and economist Vivek Dehejia told the BBC.
Mr Dehejia said the reason for Mr Trudeau's lukewarm reception could well be that several members of his government were closely allied with a Sikh independence movement - the Khalistan movement - which seeks to create a separate independent Sikh homeland in the Sikh-dominated northern state of Punjab.
Canadian authorities have also linked Sikh separatist militants to Canada's 1985 Air India bombing, which killed 329 people.
"His Liberal party relies heavily on the Sikh-Canadian vote bank and some of the Sikh members of his government are fellow travellers with the Khalistanis," said Mr Dehejia.
Mr Trudeau counts four Sikh-Canadians in his cabinet.
If this were the case, it would not be the first time that Khalistan has soured relations between officials from the two countries.
Punjab's top elected official refused to meet Canadian defence minister Harjit Sajjan in April last year, alleging that he was "a Khalistani sympathiser".
But India's former high commissioner to Canada, Vishnu Prakash, denied that Mr Trudeau was being "snubbed", saying that India had closely followed diplomatic protocol when receiving him.
"According to protocol, it is a cabinet minister who receives a visiting foreign leader, and this courtesy was extended to Mr Trudeau," Mr Prakash told the BBC.
He said that although Mr Modi had "breached protocol" to personally greet foreign leaders in the past, he could not be expected to greet every visitor that came to India.
"It's not like the prime minister is not going to meet him at all. There is a ceremonial welcome that will be held for him on 23 February and he will meet him there," he added.
You might also be interested in:
Former diplomat Kanwal Sibal told the BBC that it would be both politically and professionally "wrong" for India to begin a state visit by Mr Trudeau with the "prejudice" of Khalistan when it could be used instead as a platform to raise India's concerns with Khalistan at the highest level.
"It is true that domestic political reasons have meant that India has not got the kind of support on the issue, but we can use the visit to get a commitment of action from the Canadian government," he said.
Mr Sibal also said he believed it was "not true" that India was snubbing Mr Trudeau, saying that relations between the two countries improved "dramatically" in the recent past, with the signing of a nuclear deal showing that they had "common interests" now.
Canada announced it would supply uranium to India in 2015, in what was believed to be a significant step forward in relations between the nations.
Mr Sibal said he felt too much was being read into the fact that a junior minister was sent to greet Mr Trudeau at the airport when he arrived in India.
"This is normal protocol. Neither India nor Canada would want to jeopardise a state visit they knew was happening. It is in the interests of both countries to make sure it is a success," he said.