Nirav Modi fraud case and India's bank debt crisis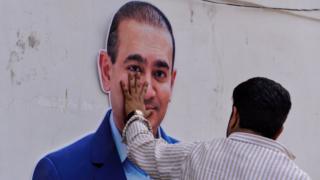 The biggest news story in India over the last week has centred around a billionaire jeweller, Nirav Modi, who has allegedly defrauded one of India's largest banks of more than a billion dollars. Columnist Vivek Kaul explains why the case could be just a sign of a far deeper problem in India's banking system.
Punjab National Bank (PNB) is India's second largest government-owned bank with assets of around $111.7bn (£79bn) as of 31 March 2017. The total amount of the alleged fraud has been estimated to total $1.8bn.
Reports suggest that Mr Modi - no relation to Indian Prime Minister Narendra Modi - left the country in early January. His immediate family also left India during the course of the month.
He is believed to be staying in a luxury hotel in New York and was last seen at the World Economic Forum in Davos as a part of an Indian delegation, which even had its picture taken with the prime minister.
Mr Modi has not been formally charged by Indian authorities yet, but several investigations have begun. Police have also arrested two bank officials and a business associate of Mr Modi's on suspicion of helping him.
In a letter to PNB, the businessman has said he owed the bank $775m and not $1.8bn. He also denied the allegations and said the "erroneously cited liability" and the resulting "media frenzy" had "destroyed my brand and the business and have now restricted your ability to recover all the dues leaving a trail of unpaid debts".
The bank has not commented on the nature of the fraud but analysis so far suggests that what the billionaire is accused of involves PNB guaranteeing him loans by issuing a letter of undertaking (LOU).
This would mean that every time a loan was due, Mr Modi would get PNB to open another LOU equivalent to the loan amount plus the interest that was due on it. The money from the new LOU was used to pay off the loan and the interest due on the previous LOU.
So in effect, he would have never repaid the initial loan.
But how does Nirav Modi's alleged fraud look in light of the other frauds that Indian banks face?
In July 2017, the finance ministry shared some data showing that PNB's control systems were in bad shape, which meant it got defrauded significantly more than other banks.
The data shows that between the years 2012-2013 and 2016-2017, Indian banks saw a total number of 22,949 instances of fraud, with total losses to banks amounting to $10.8bn.
Of the 78 banks on the list, PNB faced the highest losses when it came to fraud. Over the five-year period, the bank faced 942 cases with losses of $1.4bn.
Also, more significantly, PNB faced more fraud cases than the country's largest bank, State Bank of India, which has an asset base 4.6 times larger than PNB.
Having said that, the average fraud at PNB cost the bank 95.5m rupees ($1.48m; £1.05m). In Nirav Modi's case, the size of the alleged fraud is much bigger than the size of the average fraud PNB has faced in recent years.
This shows the allegation against Nirav Modi is more than petty bank fraud. It is basically more along the lines of a large bank loan default, which many of India's crony capitalists specialise in.
India's government-owned banks have been under great pressure in the face of corporate loan defaults over the last few years.
As of September 2017, the bad loans ratio of these banks stood at 13.5%. This essentially means that of every 100 rupees of loans given by these banks, 13.5 rupees has been defaulted on.
A bad loan is a loan which has not been repaid for a period of 90 days or more. The corporate default rate is even higher.
Largely due to corporate loan defaults, Indian banks have had to write off loans worth around $38.8bn for the period of five years ending 31 March 2017.
Nirav Modi's alleged bank fraud will only add to this.
To keep these banks going, the Indian government has to regularly keep injecting capital into them.
In fact, an estimate made by The Times of India newspaper suggests that over the last 11 years, the government has injected $40.3bn into the banks that it owns.
Every rupee that goes into these banks is taken away from more important areas like agriculture, education, health and defence.
The reason why many Indian businessmen blatantly default on loans is because they know that given India's slow judicial system and their closeness to politicians, their chances of getting away with a loan default are very high.
If proven, the Nirav Modi case would expose just a small part of a much bigger and more significant picture for the country.
Vivek Kaul is the author of India's Big Government—The Intrusive State and How It is Hurting Us.