Sridevi obituary: From Bollywood actress to Indian icon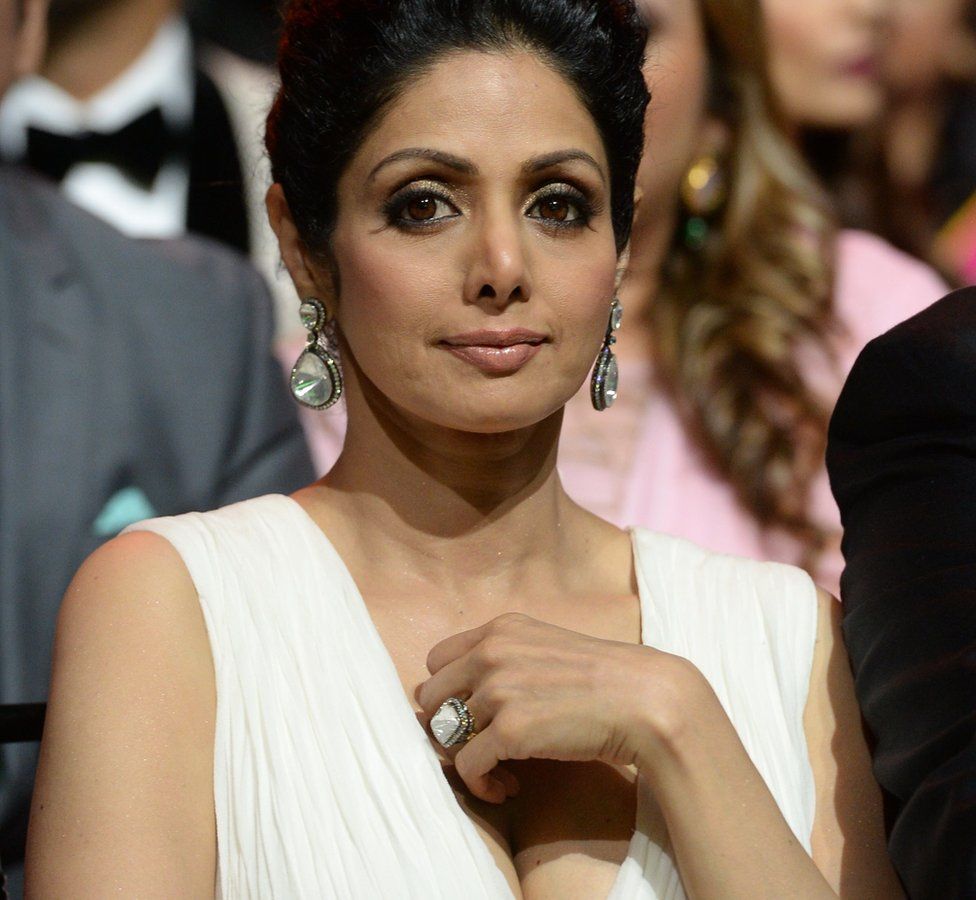 India is mourning screen icon Sridevi Kapoor, who has died aged 54. Her rise to stardom was an extraordinary chapter in the country's film industry, writes Sudha G Tilak.
In the heat of the cruel south Indian summer, Sridevi cut a cool figure. It was the early 1990s and she was in a white, flowing dress in the famous Prasad Studios in Chennai (Madras), the city that spawned her career.
Tall and statuesque, she was almost regal, her hair styled to resemble a cloud - as was the fashion at the time.
As a young reporter, I found her sitting on set between takes of a Bollywood song-and-dance sequence, ready for the interview, her expression giving away nothing.
Despite my prodding her monosyllabic answers shed no light on her life in Bollywood and she remained painfully shy of opening up.
But on screen Sridevi - who was known by her first name, like most south Indian actors - was very different.
With a filmography of close to 300 movies in at least five Indian languages, she held her own as a leading lady, a box office magnet from the 1970s to the late 1990s.
Sridevi's life on screen began with a successful early stint performing in all the four south Indian film languages and she graduated to an extraordinary career in Bollywood, where she knew neither the language nor the culture of the Hindi film industry.
When she took a break from films, after her marriage to producer Boney Kapoor in 1996, Sridevi was rumoured to be the highest paid in her field and her star power and charisma persisted for years to come.
She embodied feminine mystique and that classic screen-goddess combination of beauty, mystery and intrigue. She lit up the screen with her vivacity and charm, while off it she remained fiercely private.
Film directors repeatedly spoke in awe of her acting prowess, which followed no method but sheer intuition and instinct as she sparkled before the cameras and retreated into a shell when the lights were off.
A fluid, performing talent
Like film legend Greta Garbo, the Art Deco icon of her times, Sridevi was glamorous and beautiful but reclusive and intensely private.
Her glittering costumes and dazzling presence on screen, coupled with her sculpted dance performances in Hindi movies, found die-hard fans among young girls and women.
Her burlesque comic acts and vaudeville capers in films such as Mr India and Chaalbaaz delighted adults and children alike.
And her vulnerable sex appeal brought her female and male adulation, while her intuitive skill for acting made her a box-office sensation in Bollywood.
Sridevi's screen career began at the age of four in a 1969 Tamil-language film. The eldest daughter of a small-time Tamil lawyer and a Telugu-speaking mother, she had an active career as a child actor. At just 13 she was cast in the role of a woman avenging her lover's death and as the young wife of an older man in the Tamil film Moondru Mudichu (Marriage).
Sridevi's fan base is fiercely regional, too. Her south Indian fans claim that her best acting phase was in the southern language films, especially Tamil and Telugu, where she played unglamorous and complicated roles.
Notable film roles include:
Moondram Pirai (Rare Phenomenon): The story of a modern young woman who loses her mind in a car accident
Varumayin NiramSigappu (Red is the colour of poverty): An ode to the gritty ideals of the left among a bunch of Tamils in north India
Gaayathri: A tragic tale of a wife tricked into marriage
Pathinaru Vayadinile (Sweet Sixteen): Following the youthful indiscretion of a village belle seduced by a city slicker
Sigappu Rojakkal (The Tamil Psycho): A garments saleswoman captures the attention of a humble man who has a dark side
Johny: A love story between a popular but lonely singer and a petty thief
Meedum Kokila (Again Kokila): An orthodox Tamil Brahmin woman fights to rekindle the love of her husband
However, Sridevi's fans in the north say it was her Bollywood career that really allowed her charisma and glamour to shine.
In 2012, her comeback Bollywood film English Vinglish was a huge hit, once again cashing in on her unique combination of charisma and fluid acting talent.
She notched up several awards, including the Padma Shri, India's fourth highest civilian honour.
Sridevi's screen profile was glamorous but her private life was one of heartbreak, loss and estrangement.
The Bollywood gossip mill relentlessly spoke of her not being good at conversation, and listed her romantic liaisons and heartbreaks - as well as her bouts of cosmetic surgery.
Her secret wedding in 1996 led to a 16-year hiatus in her film career. She turned to family life and gave birth to two daughters, Jhanvi and Khushi.
In recent years she had taken up a variety of roles - and her sudden death at a family wedding in Dubai - has come as a huge shock to India.
Her fans will be devastated to learn that the cause of death was accidental drowning, according to a Dubai forensics report.
But in the hours before she died Sridevi's Instagram posts were alive with her pictures.
Bejewelled and in shimmering couture, her glittering smile lit up the screen as it always had.
Sudha G Tilak is a Delhi-based independent journalist