India temple stirs controversy for 'piercing' children's bodies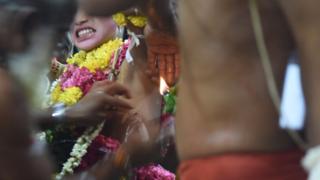 A Hindu temple ritual in which boys aged between five and 12 years are pierced with metal hooks is stirring controversy in India after a senior police officer spoke out against it.
Sreelekha Radhamma, chief of prisons, called it "rigorous mental and physical abuse" in a blog post on 27 February.
She said the practice amounted to a criminal offence under Indian law.
An official at the temple in Kerala state told the BBC's Ashraf Padanna "we don't force anybody" to participate.
The annual ritual, called Kuthiyottam, takes place at the Attukal Bhagavathy temple in Thiruvananthapuram.
It involves piercing the skin, usually under the arm, with a tiny iron hook and knotting a thread through it. The hook is then pulled out and ash is applied to the wound.
The head of the temple, Chandrasekhara Pillai, said the "hook-like instrument" makes a small hole in the top layer of the skin and the "child will never be in pain."
Temple officials also said they will continue with the seven-day ritual - the boys live at the temple during this time. They are all children of devotees and go through this once in their life.
The practice is described as a form of "penance" and includes sleeping on the ground and performing 1008 prostrations.
Ms Sreelekha, the chief of prisons, wrote in her post that she had not realised that the boys were literally pierced with a hook until it happened to the son of someone she knows.
"He was looking miserable each time I saw him in the crowd of boys. All the boys bore the same look of the sacrificial goats."
When she asked the boy's father why he looked so unhappy, she was told that it was because of the piercing.
"It came as a shock to me, she wrote, adding: "I found everyone with whom I talked knew about this torture on children, but did or are planning to do nothing.
"Who will complain? Parents will not, those who see it will not since they have no locus standi."
Mr Pillai said the ritual had been "going on for years without any issues" but it is unclear how old it is.
"It is very painful to watch," said Lekshmy Rajeev, who has written a book about the temple. "I am a devotee but I will never send my son there."