India parents jailed for letting minors drive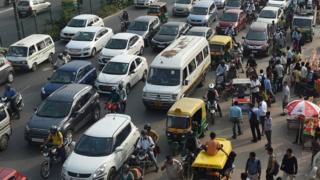 Parents of 10 teenagers have been sentenced to a day in prison for letting their children drive in the southern Indian city of Hyderabad.
The police said 35 parents served a one-day jail term last month for the same reason.
The parents told the BBC they were unaware of a rule which says they would be held responsible for allowing a minor to drive.
This is part of the city's campaign to reduce underage driving, police said.
"I was unaware of [underage driving] rule. My 17-year-old son took his bike to go for his tutorial. And we were sent to prison,'' said Shakeel Ahmed.
A senior police officer said he hoped spending a day or two in jail would encourage parents to think twice before letting children use their vehicles.
"In the last two months, four children died in the city because they were driving vehicles. As part of the drive to curb this, we have charged over 1,000 people for underage driving,'' a senior police officer told the BBC.
Another city in southern India, Bangalore, also tried to promote safe driving on its roads last year.
The city's police tracked down five teenagers who posted videos of themselves performing risky stunts on the road. Since they were under 18 years old, the police arrested their parents instead.
Road accidents are common in India, often due to poor driving or badly maintained roads and vehicles. Experts blame poorly designed roads.
More than 150,000 people were killed on India's roads in 2016, according to figures released by the government.