Gender pay gap in cricket angers Indians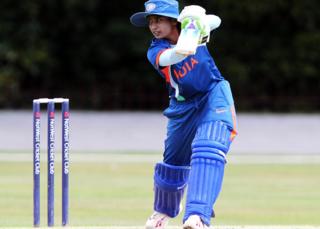 Indians have expressed outrage on Twitter after data from the cricket board showed that men players will earn 14 times more money than women.
Top players of the men's team will earn 70m rupees ($1.07m; £774,900) each per year, while women in the same category will make 5m rupees ($76,950; £55,344).
The board announced the new contracts for both teams on Wednesday.
The pay gap has remained despite great performances from women's team, including reaching the World Cup final.
Many on social media found it ironic that the Board of Control for Cricket in India announced this "huge pay gap" a day before International Women's Day.
Skills matter
Some people pointed out that men's national team plays more matches than the women's and brings in more advertising revenue for the board.
But many feel that that this can't be given as a reason for the massive difference pay and remuneration should be based on skills.
Fight for equal pay
Gender pay gap also exists in other cricket boards.
Sportswomen like tennis star Sarena Williams and England cricketer Tammy Beaumont have been campaigning for equal pay in sports.
But many say much more needs to be done to achieve equal pay for men and women in sports.