Rhino census begins in India's Kaziranga National Park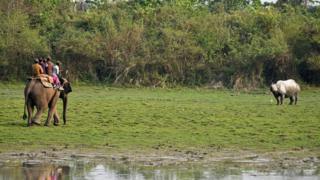 Authorities in India's Kaziranga National Park are using elephants and sport vehicles to conduct a census of its one-horned rhinoceros population.
The Unesco World Heritage Site, in north-east Assam state, is home to two-thirds of the world's population of the species.
The census is carried out every three years and is due to last two days.
In the last survey in 2015, authorities counted 2,401 rhinos, up from the 2012 results.
"We expect [the] rhino population will be increased in Kaziranga," Assam environment minister Pramila Rani Brahma said.
Authorities divided the 170 sq mile (430 sq km) park into 74 compartments, with 300 government and NGO officials conducting the survey.
Since its foundation in 1905, Kaziranga has had great success in conserving and boosting animal populations.
As well as being a haven for one-horned rhinoceroses, the park was declared a tiger reserve by the Indian government, and is also home to elephants, wild water buffalo and numerous bird species.
The endangered South Asian river dolphin or Ganges dolphin also lives in the rivers that criss-cross the park.
However, this reputation for conservation has not been without controversy.
The government has in recent years given the park rangers extraordinary powers to protect the animals from harm - powers usually only given to soldiers intervening in civil unrest.
In 2015, park guards shot dead more people than poachers killed rhinos.
Local media reports that poachers have managed to kill three rhinos in the park this year so far, compared with seven in 2017 and 14 in 2016.
You may also be interested in: