India probe after exam leak hits 1.6 million students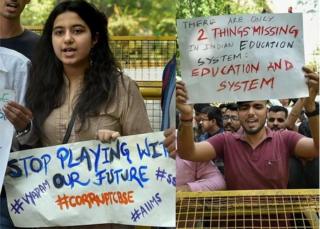 India has launched an inquiry into its national school exams after questions were leaked, forcing 1.6 million students to resit their tests.
Police have questioned 32 people over the leaks in mathematics and economics papers which were accessed and spread via WhatsApp before the exam.
Authorities say the new exam dates will be announced soon.
Cheating in exams is common including paying large bribes to buy exam papers, although there have been other methods.
In 2015, around 300 people were arrested and 750 students expelled in the northern state of Bihar after parents and friends of students were photographed climbing school walls to pass on answers during school exams.
The latest leak of high-school question papers pertains to the Central Board of Secondary Education (CBSE) exams that are crucial for students hoping to secure admission in some of India's most prestigious public universities.
Federal education minister Prakash Javadekar has promised to strengthen online security following the outrage over the leak.
"The criminals who did this won't be spared. I am sure police will catch these people soon. Let me assure that we will further improve the system and make it foolproof," he told reporters on Thursday.
He said he "understood the pain and anguish and frustration" of parents and students following the breach.
Police in the capital Delhi say they have questioned more than 30 people, including college students and tutorial centre owners, in connection with the leak.
The leaks have also put pressure on the ruling Bharatiya Janata Party (BJP) to defend itself over digital security.
Rahul Gandhi, president of the main opposition Congress party, condemned the leaks while taking a swipe at Prime Minister Narendra Modi's government on Twitter.
The government was also criticised earlier this week after Mr Modi's official mobile application was accused of sending personal user data to a third party without their consent.
Authorities said that copies of the economics paper were being circulated on social media hours before the test, which began on 26 March.
The Delhi government also received complaints on 15 March after another exam paper was reported to have leaked.
The CBSE initially denied reports of leaks in the public, but acknowledged them a week later.
"We are working for the children. Nobody needs to worry. We have taken a decision in favour of the children," Anita Karwal, a CBSE official, said on Thursday.
In recent years, authorities in Bihar have asked students not to wear shoes or socks and imposed fines and jail terms to stop cheating in school exams.
They have also expelled students and detained parents for helping their children cheat in the exams.
And in neighbouring Uttar Pradesh, students are frisked and exams conducted under CCTV cameras to check cheating