Eight dead in massive India caste protests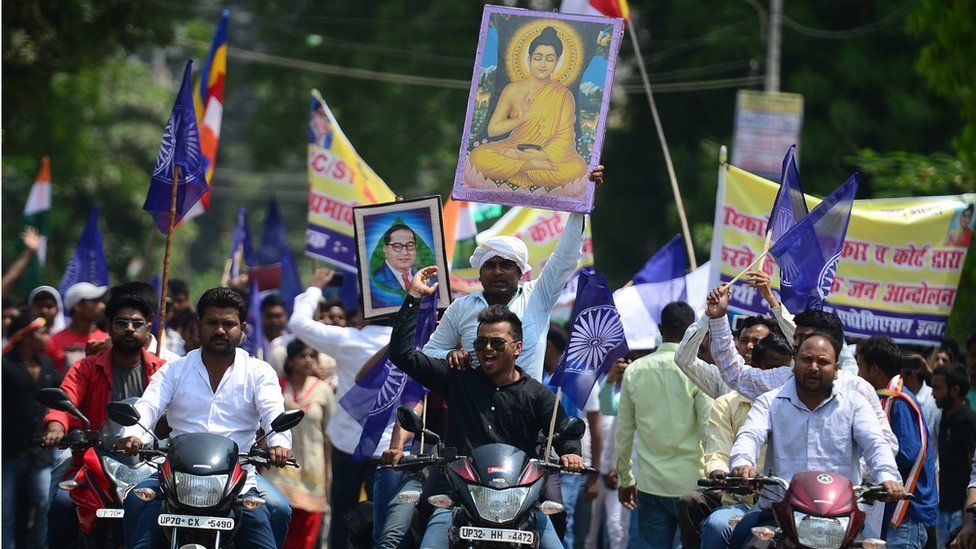 Eight people have died amid violent protests involving tens of thousands of protesters from the Dalit (formerly untouchable) community across India.
They have taken to the streets to protest against a Supreme Court order that they say weakens a law designed to protect lower caste communities.
Train services have been affected and some main roads have been blocked in a number of states.
The federal government has asked the court to review its decision.
In its ruling, the court had said that the Scheduled Caste and Scheduled Tribe (Prevention of Atrocities) Act, popularly known as the SC/ST Act, had been "misused" in the past.
Dalit leaders said the ruling made them feel "vulnerable".
"The SC/ST Act ensured the protection of Dalits in India by making any discrimination against our community a punishable offence. With this new Supreme Court order, these legal obligations have ended. We're all sad and shocked," said KP Choudhary, the general secretary of an all-India association for lower castes.
How has the protest played out so far?
In the central state of Madhya Pradesh, senior police officials told BBC Hindi that six people had died.
Bans were imposed on large gatherings after protesters blocked railway tracks and set fire to vehicles. A curfew has been imposed in some parts of the state.
One person has also been killed in the northern state of Rajasthan, police said.
In the northern state of Punjab, exams have been postponed and all educational institutions, banks and offices shut. The state government has also suspended internet services until 11pm. Hundreds of protesters carrying swords, sticks, bats and flags forced shops to shut in several cities in the state and public transport is off the road.
There have been further reports of clashes between protesters and police in parts the northern states of Uttar Pradesh, Jharkhand and Bihar.
Dalit organisations also staged demonstrations in the capital, Delhi, but police said there were no report of any violence. However, roads were blocked in the city centre, causing lengthy traffic jams.
Why do Dalits need protection?
Dalits are some of the country's most downtrodden citizens because of an unforgiving Hindu caste hierarchy that condemns them to the bottom of the heap.
Despite the laws to protect them, discrimination remains a daily reality for the Dalit population, thought to number around 200 million.
Traditionally, they have been segregated from the upper castes and are not allowed to attend the same temples, schools or even drink from the same cups as upper caste people. They do not get education and job opportunities, and are often victims of exploitation, abuse and violence.
Lately, activists say that rising aspirations among young Dalits have improved their lives, but this has also increased violence against them by upper caste community members who are unable to accept this.
The Scheduled Caste and Scheduled Tribe (Prevention of Atrocities) Act, 1989 was brought into law to prevent crimes against people belonging to lower castes and tribes in India.
The act was passed as it was felt that the existing legal framework at the time did not provide adequate protection to lower castes.
The act allows for instant arrests, severely limits opportunities for bail and also automatically sees the registration of criminal cases against anyone accused of committing an offence against a member of a lower caste or tribe.
It also prescribes several other stringent measures such as the attachment and forfeiture of property of an accused.
The act also allows public servants to be prosecuted for neglect of duties - a significant step given that many lower caste people said their complaints were often ignored by officials who belonged to the same communities as those they were accusing.
It was amended in 2015 to cover newer forms of discrimination and crimes against lower caste communities.
What did the Supreme Court ruling say?
In its ruling, the court said that the act was being "rampantly misused", noting that 15-16% of the total number of complaints filed under the act in 2015 were false, and many cases were filed to settle personal scores and harass adversaries.
It therefore stopped the automatic arrests and registration of criminal cases under the law and also made it mandatory for a preliminary inquiry to be conducted by police within seven days of an alleged incident before taking any action.
The court also said it would be mandatory for the senior police official of a district to approve any arrest. It provides further protection for public servants, saying no arrest can be made without the written permission of the concerned official's appointing authority.
Critics say that the ruling has diluted the law which will pave the way for officials to turn a blind eye to caste atrocities. They also say that the provisions will lead to increased violence against lower castes.