India, Pakistan cricketers spar over Kashmir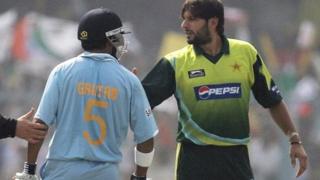 The Kashmir conflict between India and Pakistan has now extended to a social media tiff between cricketers.
Former Pakistani captain Shahid Afridi and ex-India opener Gautam Gambhir sparred on Twitter over the restive region that is claimed by both nations in its entirety.
Afridi tweeted on Tuesday that the situation was "appalling and worrisome in Indian-occupied Kashmir".
This prompted Gambhir to retort that Afridi had a "retarded dictionary".
Kashmir has been a flashpoint for more than 60 years and the two nations have fought two wars over it.
It all began when Afridi called India an "oppressive regime" and appealed to the UN to intervene in Indian-administered Kashmir which saw its worst day of violence in years at the weekend.
On Sunday, at least three Indian soldiers and 13 suspected militants were killed in gun battles south of Srinagar. Four civilians died and more than 200 were injured in protests sparked by the clashes.
Gambhir rejected Afridi's understanding of the situation in Kashmir.
Afridi responded with another tweet, this time with a picture of him with Indian cricket fans.
Afridi is not the only Pakistani cricketer who has recently tweeted on Kashmir. Cricketer-turned-politician Imran Khan also urged the UN to intervene in a tweet on Monday.
The Kashmir dispute often evokes strong reactions from Indians and Pakistanis.
Separatists have waged a violent campaign against Indian rule since the late 1980s, leaving tens of thousands of people dead in the conflict.
Indian security forces are often accused of using disproportionate force against protesters, a charge the government denies.
What is Kashmir dispute?
Even before India and Pakistan won their independence from Britain in August 1947, Kashmir was hotly contested.
Under the partition plan provided by the Indian Independence Act, Kashmir was free to accede to India or Pakistan.
The maharaja (local ruler), Hari Singh, chose India and a two-year war erupted in 1947.
A new war followed in 1965, while in 1999 India fought a brief but bitter conflict with Pakistani-backed forces.
By that time, India and Pakistan had both declared themselves to be nuclear powers.