India bans crypto-currency trades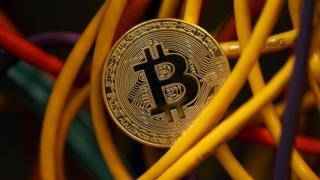 India's central bank has announced a ban on the sale or purchase of crypto-currency.
In its first policy statement for the current fiscal year, the bank said that financial institutions can no longer deal with entities that trade in virtual currencies such as Bitcoin.
The Reserve Bank of India (RBI) has given banks three months to unwind their exposure to such exchanges.
There are around five million digital currency users in India.
"In view of the associated risks, it has been decided that, with immediate effect, entities regulated by RBI shall not deal with or provide services to any individual or business entities dealing with or settling [virtual currencies]," the bank said in a statement.
The RBI's announcement has left crypto-currency exchanges in India in turmoil.
"No other player in India was foreseeing this, and it comes as a shock. People are trying to exit as they feel they won't be able to cash out after three months," Sathvik Vishwanath, co-founder of Unocoin, told the BBC's Devina Gupta.
"Selling volumes in Bitcoin are as high as 1.5 times in a single day and the price has gone down by 10% of what it should ideally be."
Experts say that investors in India can technically still hold on to their Bitcoin and other digital currency and can also trade in cash or through a foreign bank account.
Before the most recent announcement, the Indian government had previously issued several warnings about the "economic, financial, operational, legal, consumer protection and security-related risks" of virtual currencies such as Bitcoin.