India outrage spreads over rape of eight-year-old girl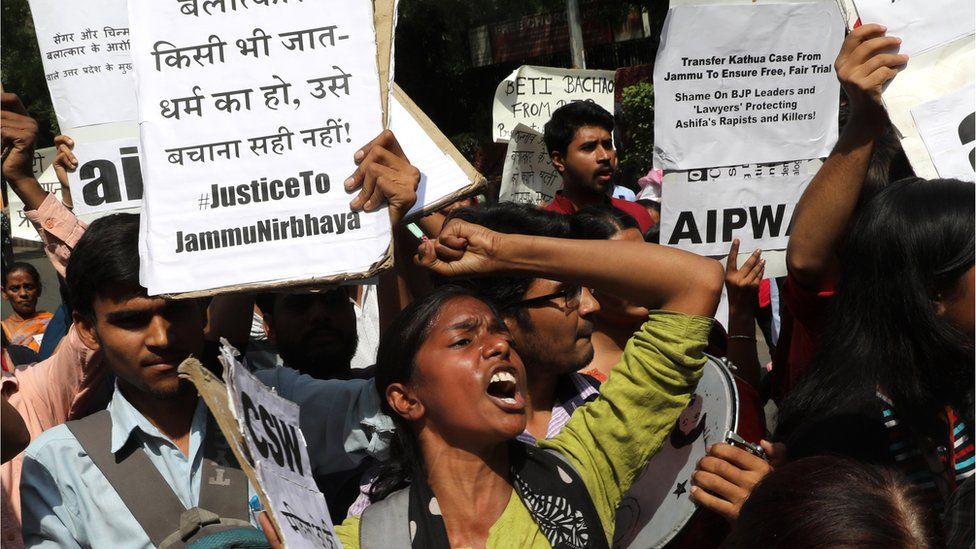 The brutal gang rape and murder of an eight-year old girl has sparked outrage and anger across India.
The body of Asifa Bano, who belonged to a Muslim nomadic tribe, was found in a forest on 17 January near Kathua city of Indian-administered Kashmir.
The story made headlines this week when Hindu right-wing groups protested over the arrest of eight Hindu men.
The case has become a religious flashpoint in an already polarised Indian region.
The men the police have arrested include a retired government official, four police officers and a minor - all of them belong to a local Hindu community that has been involved in a land dispute with the Muslim nomads.
Anger not only over the grisly murder but also the support for the accused quickly gathered momentum on Twitter with the hashtags #Kathua and #justiceforAsifa trending since Thursday.
Imagine what goes through the mind of an 8 yr old as she is drugged, held captive, gang raped over days and then murdered.
If you don't feel her terror, you are not human.
If you don't demand Asifa get justice, you belong to nothing.

— Farhan Akhtar (@FarOutAkhtar) April 12, 2018
How can anyone protect the culprits of such evil?

What happened to Asifa at #Kathua is a crime against humanity. It cannot go unpunished.

What have we become if we allow politics to interfere with such unimaginable brutality perpetrated on an innocent child?

— Rahul Gandhi (@RahulGandhi) April 12, 2018
Is this really the kind of country we we want to be known as to the world today ?? If we can't stand up now for this 8 year old girl regardless of our gender,caste,colour or religion then we don't stand for anything in this world.. not even humanity.. makes me sick to the stomach pic.twitter.com/BDcNuJvsoO

— Sania Mirza (@MirzaSania) April 12, 2018
Nothing has changed in my country. What we have learned from Nirbhaya case?
Rapist roaming freely, political parties supporting these hoolhumbs, No fear of judgeciary. Woman feeling insecure day by day. Where we taking our country?
Shame 😡#kathua #Unnao #JusticeforAsifa

— Aniket (@Aniket_CC) April 12, 2018
The crime took place in one of India's most restive regions. Since 1989, there has been an armed revolt in the Muslim-majority Kashmir valley against Indian rule - they valley is adjacent to Hindu-majority Jammu.
Asifa's family belongs to a community of Muslim nomadic shepherds who crisscross the Himalayas with their livestock. In the winter, they often travel from the valley to Jammu, where they use public forest land for grazing - this has recently brought them into conflict with some Hindu residents in the region.
The lawyers were believed to be supporting a Hindu right-wing group that has alleged that the accused men are innocent, and have demanded that the case be transferred to India's federal police.
Rahul Gandhi, the chief of the main opposition Congress party, led a candlelight march in Delhi on Thursday night.
More protests have been planned to bring attention to brutal crimes against women in India.
The chief of Delhi Commission for Women, Swati Maliwal, has said she will be starting an indefinite fast from Friday to demand better security for women and children in the country.
Several other activists and women have also planned protests in Delhi and other parts of the country over the weekend.
Kuldeep Singh Sengar, 50, from the ruling BJP allegedly raped the girl last year in Unnao district. But her case was registered only after she tried to kill herself last week in front of the chief minister's home.