India video reunites man with family after 40 years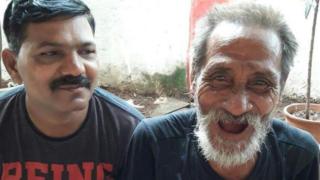 An Indian man who disappeared 40 years ago has been reunited with his family after his brother recognised him in a YouTube video that went viral.
Khomdram Gambhir Singh went missing from Manipur state aged 26 in 1978. His family heard nothing for decades.
Then they saw a video of him singing a Hindi song for money on a Mumbai street, 3,300km (2,000 miles) away.
Police helped trace Mr Singh, a former soldier who is now 66. He was flown back to live in Manipur on Thursday.
"I could not believe my eyes when one of my nephews showed me the video footage. We had lost all hope of seeing him alive again," Mr Singh's brother, Khomdram Kulachandra, told The Hindu newspaper.
Police in Manipur traced Mr Singh to Mumbai where he has been living rough.
Mr Singh's family realised he might be living in Mumbai because Firoz Shakri, the street photographer who shot and shared the video last October, is based there.
"He was making money as a beggar singing old Hindi songs," Mr Shakir told AFP news agency.
Mumbai police were sent a photo of Mr Singh by police in the Manipuri capital Imphal and eventually tracked him down to the suburb of Bandra.
"We found him outside a railway station. He was in a bad state, he was not well," inspector Pandit Thakaray told the BBC.
You may also like
He said Mr Singh had told them that he was a former soldier in the Indian army who had left home in 1978, months after he got married, because he was unhappy. Since then, he had been living in Mumbai where he earned money either by begging or working as a daily wage labourer.
After police found Mr Singh they sent a photo of him to Imphal.
"We spoke to his family on the phone and Mr Singh spoke to his younger brother," Mr Thakaray said.
The Mumbai police celebrated the reunion with a tweet.
Mr Shakir tweeted out photos of Mr Singh's departure from Mumbai - and his arrival in Imphal.
A refurbished house has been prepared for him to live in by family and neighbours in Imphal, the Times of India reports.