UK apologises for torn India flag in anti-Modi protests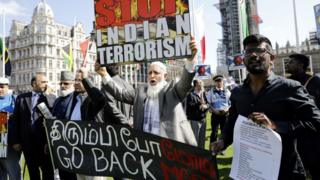 The UK has apologised after the Indian flag in London's Parliament Square was torn down amid protests against Prime Minister Narendra Modi's visit.
Hundreds of people gathered on Wednesday outside Downing Street where Mr Modi met his British counterpart Theresa May.
The protests seem to have been sparked by two recent incidents of rape in India that outraged the country.
Mr Modi later said that the rapes had brought "shame" on India.
He is in London for bilateral talks and to attend the Commonwealth Heads of Government Meeting (CHOGM).
"While people have the right to hold peaceful protests, we are disappointed with the action taken by a small minority in Parliament Square," the UK's Foreign Office said in a statement on Thursday.
The Indian Ministry of External Affairs has said that they expect "legal action" to be taken against those who brought down the flag, which was officially hoisted along with the flags of all 53 Commonwealth countries.
"We are deeply anguished over the incident involving our national flag," spokesperson Raveesh Kumar said in a press conference. He added that UK officials had "immediately replaced" the torn flag with a new one.
According to Reuters, nearly 500 protesters descended upon Parliament Square. Many held up placards that read "Modi go home" while others condemned the incidents of rape.
An eight-year-old Muslim girl from Kathua district in Indian-administered Kashmir was gang raped and murdered - outrage grew after two ministers from Mr Modi's Bharatiya Janata Party (BJP) attended a rally in support of the accused men, who are Hindu.
In another case, a 16-year-old girl attempted suicide outside a BJP lawmaker's house after alleging that he raped her.
The protests in London also drew many minorities, including separatists who support a Sikh independence movement, called the "Khalistan movement". It seeks to create an independent homeland for the community in the Sikh-dominated northern Indian state of Punjab.
Supporters of Jagtar Singh Johal, a Scottish man detained in India on suspicion of murder, were also at the protest. They demanded his release, alleging that Mr Johal has been held without charge and has been tortured by Indian authorities.
Some protesters held banners that said "stop Indian terrorism" to condemn discrimination against religious minorities in India.
According to local reports, many supporters of Mr Modi were also present near the protest - and they held banners welcoming him. Among them were a group of sari-clad Indian women who reportedly performed a flash dance.
"We want to welcome the Indian prime minister to the UK and show him the diaspora support he enjoys," one of the women told national newspaper Hindustan Times.