Taj Mahal colour change worries India Supreme Court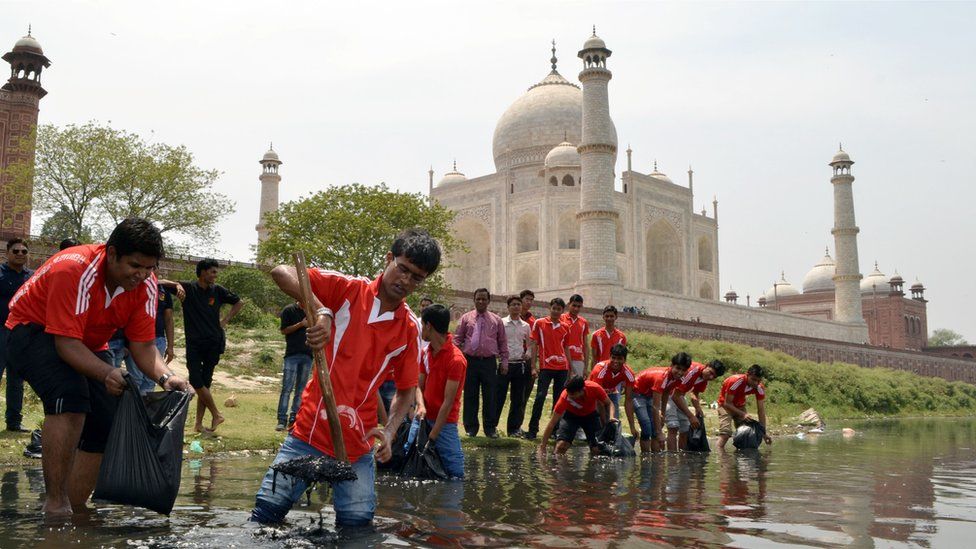 India's Supreme Court has instructed the government to seek foreign help to fix what it described as a worrying change in colour at the Taj Mahal.
"Even if you have the expertise, you are not utilising it. Or perhaps you don't care," court justices said.
The court said the famous tomb, built in the 17th Century from white marble and other materials, had turned yellow and was now turning brown and green.
Pollution, construction and insect dung are said to be among the causes.
Justices Madan Lokur and Deepak Gupta examined photographs of the mausoleum submitted by environmentalists and ordered the government to seek expertise from inside India and abroad.
The government has previously shuttered thousands of factories near the Taj Mahal, but activists say its marble is still losing its lustre.
Sewage in the Yamuna River, alongside the palace, attracts insects which excrete waste onto the palace's walls, staining them.
The Taj Mahal was built by the Mughal Emperor Shah Jahan in the city of Agra and is now one of the world's leading tourist attractions, drawing as many as 70,000 people every day.
The dirt problem is not a new one - several times over the past two decades or so the palace's white marble has been coated in a mud pack in an attempt to clean it - but there are fears the problem is worsening.
Its most recent mud bath began in January. Scaling the walls on scaffolds, workers plaster the surfaces with Fuller's earth, a mud paste that absorbs dirt, grease, and animal excrement.
Think of a giant face mask, but for a palace.
The mud is then washed off, taking the dirt with it. The current cleanup operation is expected to last until late this year.
Another Supreme Court hearing has been set for 9 May.