The Simpsons: Not all Indians think Apu is a racist stereotype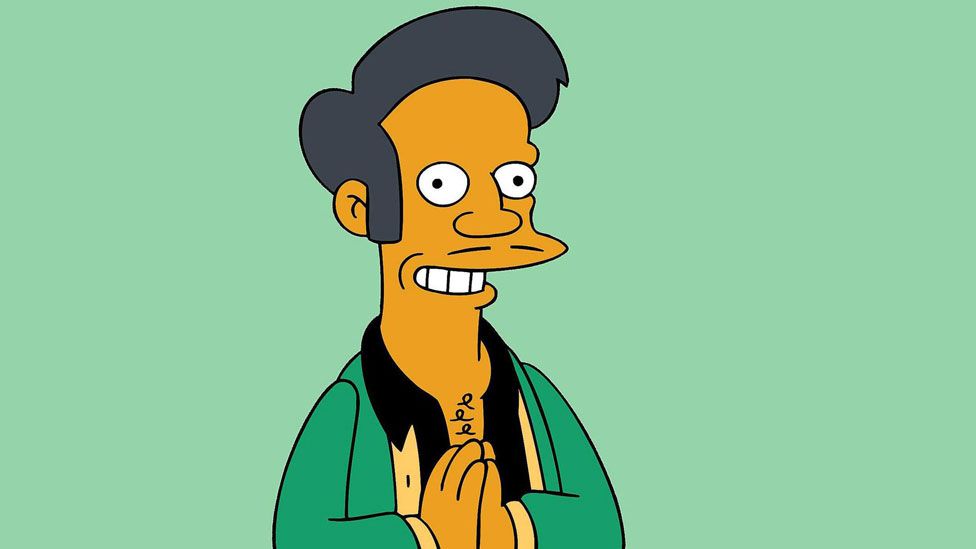 Why is a goofy Indian convenience store owner in a satirical TV series suddenly raising the hackles of some Indian-Americans, nearly three decades after he was introduced as a character?
In The Simpsons, Bengal-born Apu Nahasapeemapetilon is an indefatigable immigrant who talks in a mocking sing-song way. He topped his class of "seven million students" in a college in India before moving to the dystopian fictional town of Springfield, peopled by misfits and oddballs and powered by a polluting nuclear plant owned by a heartless cynic.
A devout Hindu, Apu is a doting father to eight children and eccentric husband to a homemaker wife, with whom he had an arranged marriage. Best known to his fans around the world for his catchphrase, "Thank you, come again", Apu loves cricket, drives a 1979 Pontiac Firebird, enjoys one rock song and is a miser.
The problem with Apu erupted last November when Indian-American comic Hari Kondabulu argued in an angry 49-minute documentary that the store owner is based on racial stereotypes.
Kondabulu hates Apu's accent, which he describes as a "white guy doing an impression of a white guy making fun of my father".
The comedian told the BBC in an earlier interview that the character was problematic because he is defined by his job and how many children he has in his arranged marriage.
In his film, a bunch of Indian-American comedians and actors, including Aziz Ansari and Kal Penn, talk about how the caricature led to them being mocked by classmates in school. Bollywood actress and star of the ABC show Quantico, Priyanka Chopra, who spent her teenage years in the US, has separately chimed in on the controversy, telling a TV show: "Apu was the bane of my life growing up in the US."
With a population of more than two million, Indian immigrants make up the second-largest foreign-born group in the US, after Mexicans. Three-quarters of them arrived after the 1990s. Nearly 70% held college or university degrees in 2010, making Indian Americans the best educated and the highest-earning group of immigrants.
Many wonder why a 30-year-old animation caricature is under fire at a time when the community is more visible and wealthier than ever before.
They say all characters in The Simpsons are brutal stereotypical caricatures anyway - Homer Simpson, the paterfamilias of the dysfunctional family which headlines the show, is a slob, a glutton and a lousy parent.
"Are all caricatured accents racist? Should we ban 'foreigners' from comedy shows altogether?"
So why is Apu under a cloud three decades after he was introduced in the show?
Mr Varadarajan told me Kondabulu's documentary "suffused with self-righteous indignation about the racism-by-caricature in Apu" is to blame for the recent kerfuffle.
Also, he says, "this has happened at a moment of particular cultural sensitivity in liberal America, with the white intelligentsia being even more capitulative than before to accusations of racism".
"I guess the fact that Indians haven't traditionally been at the forefront of America's race-complaint industry has given this latest outrage over Apu added significance. But in my view, just because traditional non-whiners are whining doesn't mean that the whining is justified!"
But Shilpa Davé, a professor at the University of Virginia and author of Indian Accents: Brown Voice and Racial Performance in American Television and Film, believes that Apu has been a "topic of conversation, interest, and censure about the accent" long before the Kondabulu documentary.
"It's a made-up accent that makes Apu an object of racial humour because of the way he talks rather than what he is saying. The enduring characteristic that he represents is that all Indians talk with a funny and foreign accent, compared to US accents," she told me.
Sanjoy Chakravorty, co-author of The Other One Percent: Indians in America, isn't even sure whether there is any wider outrage over Apu beyond the "media echo chamber" following the Kondabolu documentary.
"As I see it, there are two primary products that second generation Indian American comedians sell - the ridiculousness of their parents' 'culture' (arranged marriage and 'my son, the doctor' are the commonest tropes); and the racism of white Americans," Professor Chakravorty, who teaches at Temple University in Pennsylvania, told me in an email interview.
"It is not hard to see why these two lowest hanging fruits are plucked all the time. This is very standard fare. Apu is also very standard fare. What Kondabulu has done is nothing new. He picked almost the most identifiable Indian project possible in the US. And he plugged into the market for identity-based outrage."
Prof Chakravorty adds that he loves The Simpsons.
"As far as I am concerned: Apu is one of three likable characters in The Simpsons - Lisa and Marge are the others. Homer, a caricature of the ignorant, blue collar white male, is actually the most offensive."
Back in Apu's native land, fans of The Simpsons appear to have no problems with the character.
"I like Apu, in fact I love him. He has a PhD in computer science, but enjoys running his store, he is a valued citizen of Springfield, a ladies man and adores cricket and is funny," Sidharth Bhatia, Mumbai-based founder-editor of The Wire, told me.
"It reflects true American diversity. The controversy about the stereotyping is classist snobbery - Indians in America don't want to be reminded of a certain kind of immigrant from their country - the shop keepers, the taxi drivers, the burger flippers," says Mr Bhatia.
"They would rather project only Silicon Valley successes, the Wall Street players and the Ivy League products, with the proper accents, people they meet for dinner - by itself a stereotype. The millions of Apus in America, the salt-of-the-earth types, with their less 'posh' accents, are an inconvenience to that self-image of this small group of Indian-Americans."
Last month, Hank Azaria, the Emmy-award winning voice of Apu, said he is "willing to step aside" from his role voicing the character. "The idea that anyone young or old, past or present, being bullied based on Apu really makes me sad," said Azaria. "It certainly was not my intention."
So does Apu's future look uncertain? Will the show write him out of the script? Will he be given a new voice? Will the show update the stereotype?
There are no indications that Apu will leave Springfield yet. But the convenience store owner's job could very well be on the line.