India Andhra Pradesh boat capsize: Several feared drowned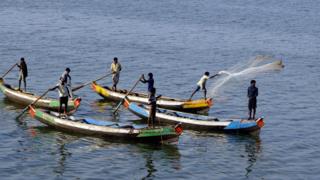 At least 15 people are missing after a boat capsized in the southern Indian state of Andhra Pradesh.
Reports say some 25 people were on board the vessel, many of them on their way back home from a weekly market.
The accident happened on the Godavari river on Tuesday evening. What caused the boat to capsize is unclear.
Officials say 10 passengers swam ashore. Rescue agencies, led by a federal disaster relief agency, are searching for bodies in the river.
None of the passengers were wearing lifejackets although they were available on the boat, police told BBC Telugu's Sangeetham Prabhakar.
They added that the boat was a private, licensed vessel and the owner, who had also been operating the boat, is now in police custody.
A senior police official told The Indian Express newspaper that the medium-sized boat was "ferrying passengers from one hamlet to another along the river".
"We are not sure what caused the launch to capsize. We are talking to the survivors to ascertain what happened. The river is very shallow now, so if the boat had a problem it could have reached the bank within five minutes," Ajitha Vejendla said.
Indian Prime Minister Narendra Modi offered condolences to the families of the missing passengers later in the day.
Tuesday's incident in East Godavari district happened days after a boat carrying 80 tourists caught fire on Godavari river. All the passengers were saved in the incident.
Boats in India are often overloaded, and lax safety standards mean accidents are common.