India's Karnataka swears in chief minister amid furore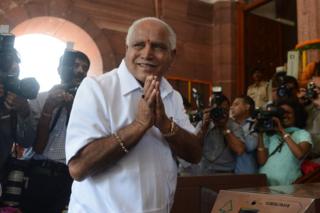 BS Yeddyurappa from India's ruling Bharatiya Janata Party (BJP) has been sworn in as the new chief minister of the southern state of Karnataka.
The move has sparked criticism from the opposition which says that the BJP does not have the required number of seats.
Although the BJP emerged as the single largest party, it fell short of a majority. But it was invited to form the government by the state governor.
Opposition parties have challenged his decision in the Supreme Court.
The judges, who met early on Thursday to hear the case, are expected to decide on the validity of the swearing-in on Friday morning.
The main opposition Congress party has staked a claim to form the government. It is the second largest party and it has declared an alliance with a regional party, Janata Dal (S), which won enough seats to give their coalition a slim majority in the new assembly.
The two parties had asked the governor, Vajubhai Vala, to allow their coalition to prove its majority.
But Mr Vala invited Mr Yeddyurappa to form the government on Wednesday evening and gave him 15 days to prove his majority on the floor of the house.
Correspondents say the BJP could try to woo rebels in Congress and Janata Dal to give it a majority.
The BJP won 104 of the 222 seats that went to polls at the weekend, but fell short of a majority by eight seats.
The Congress won 78 seats while the Janata Dal (S) finished third with 37 seats - the combined total would just about push them past the 112 majority mark needed to form a government.
Analysts believe losing Karnataka would be a major blow for Congress which rules only three of India's 29 states. The BJP and its allies are in power in 21.