Why did an Indian minister just go to North Korea?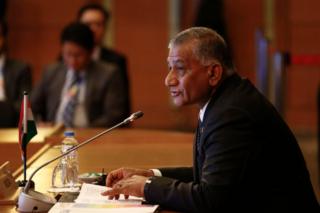 On Thursday, India revealed that it had sent a minister to North Korea for the first time in two decades.
The last time an Indian minister visited North Korea was in September 1998. Mukhtar Abbas Naqvi, information and broadcasting minister of the then ruling BJP-led alliance, had flown to Pyongyang to attend a film festival.
This time, it is more substantial. VK Singh, a junior foreign minister and the former Indian army chief, met a range of senior ministers and officials. The two days of talks earlier this week covered "political, regional, economic, educational and cultural cooperation between the two countries".
Interestingly, this rare diplomatic outreach happened weeks after the two Koreas held their first summit in more than a decade and as the leaders of the US and North Korea prepare for a historic first meeting next month. The highly anticipated 12 June talks between Donald Trump and Kim Jong-un is now uncertain after North Korea said it may pull out if the US insists it gives up its nuclear weapons unilaterally.
So has India chosen this moment to re-engage with North Korea to ensure it doesn't get left behind in the diplomatic flurry? Or are they doing a favour for their US allies?
Many forget India and North Korea have had a full diplomatic relationship for the past 45 years. They have small embassies in Delhi and Pyongyang. The two countries have had cultural exchange programmes, and inked science and technology co-operation agreements. North Korean diplomats have attended courses for foreign diplomats in Delhi. India has sent food supplies to Pyongyang under a UN programme. And when the tsunami struck India in 2004, North Korea reciprocated by donating $30,000 (£22,174) to India as a goodwill gesture.
Although India last sent a minister to North Korea 20 years ago, senior officials from Pyongyang have continued to visit India over the years.
In April 2015, North Korea's foreign minister visited Delhi and met his Indian counterpart to seek humanitarian assistance. In September the following year, a junior Indian minister visited the North Korean embassy in Delhi to mark North Korea's Independence Day, in what was possibly the first time a minister had represented the government at an official event. The Indian minister Kiren Rijiju spoke about how a "relationship based on greater trade and commerce between two sides is the way ahead".
In 2013, India was possibly North Korea's third-largest trading partner after China and South Korea. India mainly exported industrial chemicals, crude oil and agricultural products, and imported dried and fried fruits, natural gum and asafoetida. Bilateral trade has declined to around $130m - from more than $200m in 2014 - after India banned almost all trade following fresh UN sanctions on North Korea over its missile tests in 2017.
'Long relationship'
"India is one of the few countries with which North Korea maintains diplomatic relations. India is an important window to the world for North Korea. The two countries have a long, low-intensity relationship," Prashant Kumar Singh, a fellow at the Delhi-based Institute of Defence Studies and Analyses and a specialist on India's engagement in East Asia, told me.
Last year, India refused to diminish its diplomatic presence in Pyongyang as suggested by former US Secretary of State Rex Tillerson. India's Foreign Minister Sushma Swaraj had pointedly told Mr Tillerson that "embassies of some of your friendly countries should remain there so that some channels of communications remain open."
Delhi says that Pyongyang had provided Mr Singh with an "overview of the recent developments in the Korean peninsula", and that the minister had reiterated India's support to the Korean peace initiative. So did Mr Singh's visit have anything to do with the upcoming - and now uncertain - meeting between Mr Kim and Mr Trump?
"We can only speculate. Mr Trump does not want to jeopardise his summit meeting. Maybe the Americans are seeking some Indian support to ensure that the summit is saved," says Dr Singh.
"India is a bit player here, but is also the only major country in the region that is not a party to the problem but has good contacts with North Korea." Clearly, when it comes to negotiating with an isolated heritage regime, even the rare, relatively minor friend can be of help.