Lini Puthussery: India's 'hero' nurse who died battling Nipah virus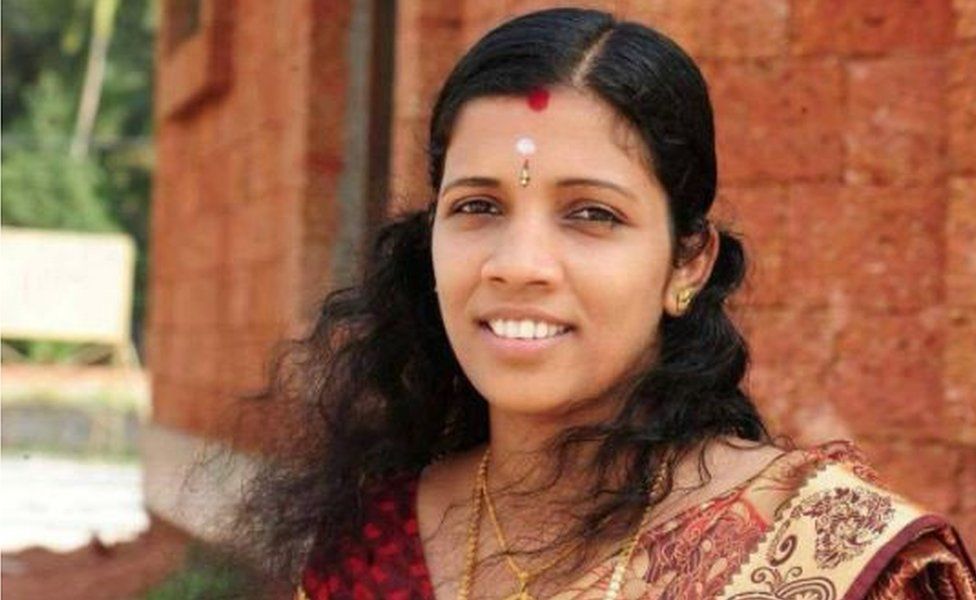 "I don't think I will be able to see you again. Sorry. Please raise our children well."
Lini Puthussery, a 28-year-old nurse, wrote this note to her husband as she was dying from the deadly Nipah virus on Monday in India's southern state of Kerala. She has two sons, aged five and two.
At least nine other people have died in the outbreak in Kozhikode, formerly Calicut.
Two others who have tested positive for the virus are critically ill. Some 40 people have been put into quarantine following the deaths.
Health authorities across Kerala have been on alert, setting up medical camps and a control room to tackle the situation.
The virus, which can be transmitted from animals to humans, is hard to diagnose. Symptoms of infection include fever, vomiting and headaches. It has a mortality rate of 70% and there is no vaccine.
Lini had been treating a family of three who had been diagnosed with the virus - she is believed to have spent the entire night caring for them.
She is reported to have started feeling feverish on Sunday. When she realised that she was experiencing what could be symptoms of the infection, she admitted herself to hospital and asked to be quarantined, according to local media reports.
Her husband, Sajish, works as an accountant in Bahrain and flew back when his brother called and told him Lini was in hospital. Lini's husband told the BBC that she had also called him.
"She said, 'I am sick and I am going to the hospital for treatment'," Mr Parambath said. He arrived in Kozhikode early on Sunday but by then Lini was already in the intensive care unit.
"She was using an oxygen mask because her oxygen levels were low," Mr Parambath said. "She could not speak but she took my hand in hers and held it."
After she died the following morning, a relative gave him the note she had written. It has been widely shared on social media after Mr Parambath showed it to local journalists.
Lini's body was not handed over to the family to prevent the infection from spreading further. She was cremated under official supervision.
Her death is being hailed on social media as a sacrifice and officials and doctors are calling her a hero.
Nurse Lini died in our battle against the Nipah virus. She died trying to save patients infected by it. She was just 31 & was a mother of two little kids. If she is not a martyr, I don't know who is. pic.twitter.com/xF2rZrtuRv

— Sasidharan Pazhoor (@inquestioner) May 22, 2018
It is the courage, commitment and love of healthcare professionals such as Lini that India should be proud about.
Request Kerala minister KK Shailaja and Union minister @JPNadda to see that the service of this nurse from #Kerala does not go unnoticed: https://t.co/f0s62Q8BkW

— Viju Cherian (@vijucherian) May 22, 2018
A nurse who took care of a #NIPHAVirus patients & succumbed to same. Her body was cremated with extreme urgency to prevent any possible spread and even her family could not pay due respect. Respect to Lini &a reminder that healthcare workers take immense personal risk to serve us pic.twitter.com/4kzESu6j4J

— Dr. Deepu Sebin (@deepusebin) May 21, 2018
Chief Minister Pinarayi Vijayan also tweeted condolences, adding that her "selfless service will be remembered".
Nipah is "top of the list" of 10 priority diseases that the World Health Organization has identified as a potential next major outbreak.
Some 60 blood and body fluid samples of suspected cases in Kerala have been sent for confirmation to the National Institute of Virology in the western city of Pune, officials said.
"Health staff are visiting individual households giving them specific instructions including about eating fruits from outside and other precautions," UV Jose, the senior-most official of Kozhikode, told the AFP news agency.
Fruit bats are considered to be the natural host of the Nipah virus. Health workers said they had found dead bats in a well at the home of an affected family. They have sealed off the well with fluorescent nets.
Reports say the infection was first reported in India in 2001 and again six years later. Some 50 people were killed in the two outbreaks.
Nipah virus (NiV) infection is a newly emerging disease which can be transmitted to humans from animals. The natural host of the virus are fruit bats
The infection was first identified in 1999 during an outbreak of encephalitis and respiratory illness among pig farmers and people with close contact with pigs in Malaysia and Singapore
Nearly 300 human cases with over 100 deaths were reported in that outbreak. In order to stop it, more than a million pigs were euthanised, causing tremendous trade loss for Malaysia
Nipah virus infection can be prevented by avoiding exposure to sick pigs and bats in endemic areas and not drinking raw date palm sap
Symptom of the infection include fever, headache, drowsiness, respiratory illness, disorientation and mental confusion. These signs and symptoms can progress to coma within 24-48 hours
There is no vaccine for either humans or animals
(Source: WHO, Centers for Disease Control and Prevention)