India shuts Tamil Nadu smelting plant after deadly protests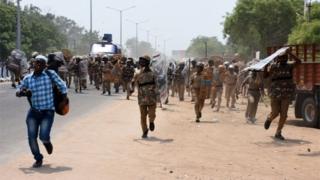 Officials in the southern Indian state of Tamil Nadu have ordered the closure of a major copper smelting plant on Wednesday.
The order came after police killed 13 people amid protests by residents in the port city of Tuticorin.
The state pollution control board disconnected electricity supply to the unit on Thursday morning.
However no one had been working at the Sterlite Copper subsidiary of Vedanta Resources for almost two months.
The company's operational licence had expired in April and the company was waiting for the government to renew it.
Residents who say the copper smelter is causing environmental damage, have been protesting against it for months.
Paramilitary forces are likely to be deployed after two days of clashes between police and local people.
According to the board, the company failed to adhere to certain agreed upon environmental conditions. The plant has been ordered to shutdown with immediate effect for the period of 2018-2023.
On Wednesday, a court also halted the proposed expansion of the company.
Vedanta has denied all the allegations against it and says it plans to double the capacity of its plant.
Activists have criticised the police for firing live rounds at the protesters.
"We fired live ammunition in the air to disperse the protesters. But the mob continued to pelt stones and bombs. They were setting fire to vehicles," a police officer told the AFP news agency.
Amnesty International said police had "many questions to answer" and "those responsible should be brought to justice".
P Mahendran, chief of Tuticorin police, said 18 policemen were injured in the clashes.
Tamil Nadu chief minister Edappadi K Palaniswami has ordered a judicial inquiry into the shootings but defended the police response.
Restrictions have been imposed in parts of the city and internet services are suspended. Most businesses have remained shut since the violence began.
Rahul Gandhi, leader of the main opposition Congress party, has described the deaths as "a brutal example of state-sponsored terrorism".
"These citizens were murdered for protesting against injustice," he said.
Protesters say the plant is polluting ground water in the area and threatens the fishing industry.