India football team delivers after fans respond to appeal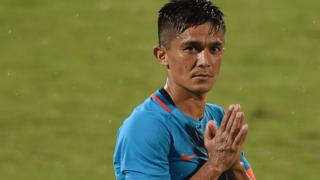 India football captain Sunil Chhetri scored a double against Kenya to delight his fans who had thronged the stadium after his appeal.
The hosts beat the tourists 3-0 at a packed Mumbai Football Arena on Monday.
Chhetri, who was playing his 100th international match, thanked his fans for responding to his plea to support football in India.
He had made the appeal on social media after only 2,569 fans turned up to watch the national team play last week.
All 7,000 tickets were sold out for Monday's match after his video appeal went viral.
The Blue Tigers, who are coached by former Millwall boss Stephen Constantine, are now on top of the table in the Intercontinental Cup, a four-team tournament that also features New Zealand and Chinese Taipei.
Chhetri dedicated the win to his fans.
And fans, including legendary cricketer Sachin Tendulkar, are full of praise for the captain.
The match marked India's 13th win in its last 16 international games.
Ranked at an all-time low of 166th in the world in 2015, India have steadily improved over the past three years to reach the 97th spot - which is their highest ranking.
Despite the strong show, the national team plays its games in front of mostly empty stands in India.
So when the turn-out hit a new low last week, Chehetri took matters into his own hands and issued an impassioned plea.
"Please come and support us, encourage us, watch us, abuse us, criticise us. Football in India needs you," he said in the video.
Cricket is hugely popular in India and is often blamed for overshadowing other sports like football and hockey.
But cricketers also came out in full support of their football counterparts.
Cricket captain Virat Kohli had also asked people to support the team before the match.