India stork with beak shut by stopper is rescued near Delhi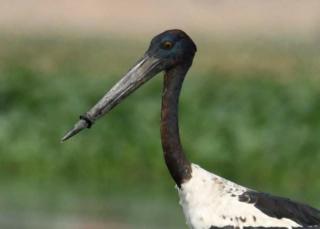 Indian birdwatchers have rescued a rare stork near Delhi which they feared would starve to death because a piece of rubber had trapped shut its beak.
The black-necked stork is being fed fish by hand after the rubber was removed and kept under observation before being released into the wild.
Conservationists had been trailing the bird since it was spotted in wetland near the capital on 7 June.
It had been able to drink water but could not open its beak further to eat.
The stork was rescued about 9am on Wednesday and what was thought to be a plastic ring shutting its beak turned out to be a rubber stopper with holes.
"When we found it, it was very weak. It was lying on the ground," said Pankaj Gupta, a bird watcher and member of the Delhi Bird Foundation, who was involved in the rescue mission.
He said its condition had rapidly improved - by noon it was standing up and poking its beak at anyone who came too close.
Mr Gupta said the rubber stopper, which could have come from a bottle or can, is likely to have slipped onto the stork's beak when it was hunting in the water, and then got stuck there.
Photographs of the beleaguered bird led to the rescue mission being mounted.
Black-necked stork are classified as "near-threatened" on the Red List and are native to parts of India, Indonesia and Sri Lanka. But only 50-60 of the birds are found in the marshy regions outside Delhi.
They thrive in wetlands where they hunt fish and snails.
Mr Gupta and his colleagues hope the plight of the stork will also help the cause of a wetland where it was first spotted.
Environmentalists want the Basai area to be protected and are challenging a plan to build a factory there for recycling construction waste.