India telecom company in anti-Muslim tweet row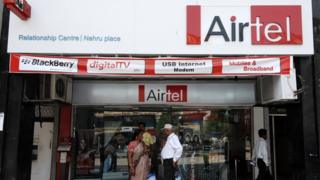 Indian telecom company Airtel has been heavily criticised online after it failed to defend a Muslim employee against discrimination from a customer.
When an employee with a Muslim name responded to the female customer's request, she asked for a "Hindu representative".
Airtel initially responded by assigning a representative with a Hindu name.
After this prompted outrage on social media, the company said it did not "differentiate" based on religion.
The row began on Monday when Pooja Singh tweeted that she had "no faith" in the Muslim employee's "working ethics" since "the Koran may have a different version for customer service".
The exchange quickly went viral and drew strong criticism online. The former chief minister of Indian-administered Kashmir denounced the company, saying he would stop using Airtel.
After it was widely condemned on social media, Airtel put out another statement.
However, many users have continued to criticise the company over the initial response complying with Ms Singh's request.
Many people have also trolled Ms Singh for her tweet - one called her a "Hindu bigot" and another referred to her as a "hatemonger".
Ms Singh has since responded, claiming that those who have criticised her have only proved her right.
The incident happened a day after Ola, an Indian cab aggregator, landed in controversy when one of its drivers refused to drop a Muslim customer at his location.
The company issued a public apology and fired the driver the following day.