Indian official transferred for 'humiliating' Hindu-Muslim couple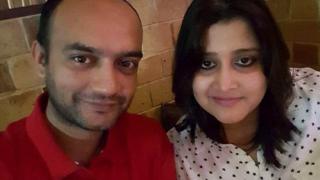 A passport official in the northern Indian city of Lucknow has been transferred after a couple complained that he harassed them because they were not from the same religion.
The woman, Tanvi Seth, who is a Hindu, reportedly tweeted to the foreign minister, saying the officer asked her husband, who is Muslim, to convert to Hinduism.
She added their passport application was also "put on hold" and they were "humiliated" by the experience.
Her tweets had sparked outrage online.
The story was picked up by many media outlets and online, prompting the passport office to take action, reports BBC Hindi's Samiratraj Mishra.
"The couple's documents were complete and they have been issued their passports," Lucknow's regional passport officer Peeyush Verma told a news conference.
"Religion of an applicant doesn't matter while we're processing passport applications."
Marriages between Hindus and Muslims have long attracted censure in conservative Indian families, but recently there has been an attachment of a deeper, sinister motive to them.
In recent years, they are increasingly being labelled as examples of alleged "love jihad" - a term popularised by radical Hindu fringe groups, who accuse Muslim men of participating in a "conspiracy to turn Hindu women from their religion by seducing them".
Mr Verma added that a report of the incident had been sent to the Ministry of External Affairs.
The couple married in 2007 but Ms Seth never changed her name.
In her tweets, she had also alleged that the officer told her that it was her "duty to change your name after marriage".
Her husband, Mohammad Anas Siddiqui told the Indian Express newspaper that when his wife refused to change her name, the officer "started shouting at her in front of everyone".
In response to her tweets, the city's regional passport office promised a "proper investigation".