Why many women in India refuse water during a heatwave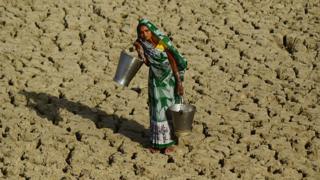 The sun is at its peak, the heat in the high 40s Celsius.
In an urban slum in India's capital Delhi, Mona [not her real name] deliberately avoids drinking water. She is fearful it will make her need to urinate.
"Sometimes, I drink less water because the spot we use to go to the toilet in the open is filled with notorious boys. I am afraid to go there."
The 13-year-old girl also restricts her food intake and goes to the 'spot' just once a day to relieve herself. She goes with a group of other women, either early in the morning or late in the evening.
Around 524 million Indians defecate in the open every day according to the UN figures.
And for women there is an added layer of vulnerability - sexual assault.
Several studies have suggested that women without toilets at home risk sexual violence when travelling to and from public facilities or open fields.
Savita, who lives in an urban slum in Delhi, recounts the horror they are forced to encounter every single day.
"A number of women face lewd remarks, harassment, and stares from local boys when they go out in the open to defecate.
"That's why we are afraid to go there. Each time, we have to gather other women and request them to accompany us to the jungle," she reveals.
Avoiding water
What happens when these women are forced to choose between health and safety?
"They intentionally dehydrate themselves - and this can have serious effects if it's really hot or if there is a heatwave," says Gulrez Shah Azhar, a researcher at US think tank Rand Corporation.
While studying the 2010 heatwave in the western city of Ahmedabad, Gulrez found that women were far more likely to die from its effects than men.
"It is commonly believed that women who stay indoors do not face high risk during a heatwave.
But there are a number of factors that offset this notion, including the lack of basic sanitation," he says.
In some households, the only source of cool air - a ceiling fan - can be unreliable due to inconsistent electricity supply.
Indoor cooking can leave a smoke-filled room, adding to the environmental heat.
And even the traditional Indian attire - a six-yard- (5-metre)-long sari wrapped several times around the body - can turn into a heat trap for some women.
Extremely hot
Bhuni Shelukar is from a village named Makhla, in the Vidarbha region of Maharashtra. The summers here can get extremely hot, with temperatures rising up to 47C.
With an acute water crisis taking place, Bhuni and the other women trek in the blazing heat to carry back a few litres of water on their heads.
"We walk 2-3km [1-2 miles] to get water and it's still not sufficient. We have to take multiple trips since we can only carry one pot at a time."
"How much weight can we carry on our heads? We feel exhausted," Bhuni says, as she walks back home.
In the western city of Ahmedabad, women speak of cultural norms that put them in charge of domestic tasks, like cooking and cleaning, yet they can't take charge of their own health.
Damini Rameshbhai Marwadi is one such woman.
"It gets difficult to use the toilet. We wait for the men to go first."
'Restricting myself'
"As women, we must first complete the household work. During the summer, I ended up getting jaundice because I was restricting myself."
Gulrez says there is "'a culture of silence that surrounds women's sanitation issues that leads to death".
"The long-term solution would involve dealing with difficult issues of equality and women's rights," he says.
The Intergovernmental Panel on Climate Change (IPCC), which is the United Nations body on climate science, has long warned that heatwaves will become increasingly extreme in South Asia.
The region is home to one-fifth of the world's inhabitants.
"Warming has occurred, at a country scale, across most of South Asia over the 20th Century and into the 2000s," reads the fifth assessment report of the IPCC.
Gulrez says it is important to find solutions that fit the local environment. This includes access for locals to a mobile phone to receive heat alerts or call for help.
"Other practical measures such as the painting of roofs with white reflective paint or jute mat curtains for the windows would provide some relief for those staying indoors," he says.
"But access to an indoor toilet and clean drinking water remains paramount."
What is 100 Women?
BBC 100 Women names 100 influential and inspirational women around the world every year. We create documentaries, features and interviews about their lives, giving more space for stories that put women at the centre.
Follow BBC 100 Women on Instagram and Facebook and join the conversation.