India mystery over Delhi's 'house of mass hangings'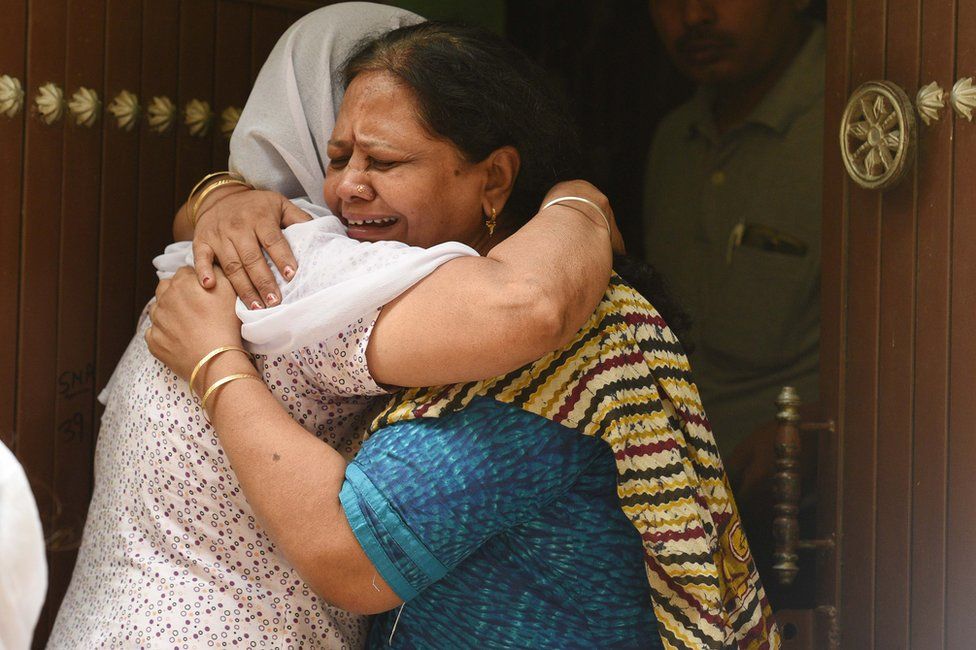 The funerals of 11 members of an extended family - 10 of whom were found hanging from the ceiling of their home in the Indian capital Delhi - will take place on Monday night following post-mortem examinations, police say.
Investigators have said the case could be one of "mass suicide linked to spiritual and mystical practices" based on some notes they found inside the house on Sunday morning. However, they have not yet ruled out murder.
These are the details so far about the case, which has gripped the country:
What do we know about the family?
The 11 dead are members of the Chundawat family. They include 75-year-old Narayan Devi, her daughter, two sons, their wives, and five grandchildren aged between 33 and 15.
All of them - apart from Narayan Devi who was lying on the floor - were found hanging from the ceiling of their home.
Their hands were tied behind their backs, and their eyes and mouths were covered with cloth.
The family lived in a three-storey house in Burari, a largely middle-class area of North Delhi. Though originally from the neighbouring state of Rajasthan, they had lived there for more than 20 years.
They operated two shops on the ground floor of their home - one sold groceries and the other sold plywood.
Neighbours say the family were active members of the community and describe them as "religious, happy and financially comfortable".
The oldest grandchild, Priyanka, who was 33, was among the dead. She had got engaged two weeks ago and the family had thrown a large party to celebrate, inviting many people in the area.
"They never had any problems with anyone. We never saw them fighting," one of their neighbours, TP Sharma, told BBC Hindi.
A relative said that the family's eyes had been donated to an eye bank as "they always wanted to help others".
Was it murder or suicide?
The circumstances surrounding the death are all very mysterious.
The bodies were found by a neighbour, Gurcharan Singh, who was sent by his wife to check why the general store had not opened at its usual time.
"When I entered, all the doors were open and they were hanging from the ceiling. Their hands were tied. I was shocked when I saw so many bodies, so I rushed home and told my wife," he told BBC Hindi. The police say they were informed soon after and rushed a team to the spot.
The house showed no sign of forced entry. Nothing else had been moved. The gold jewellery worn by the women had been left untouched and their mobile phones and other electronic items were also all still in the home.
The only surviving member of the household was their pet dog Jacky, who had reportedly been sent to the rooftop terrace. Neighbours say he did not raise the alarm at any point in the night.
Police also found a number of handwritten notes, which they believe refer to "unusual practices and beliefs" and may have outlined a plan for a mass suicide as part of a spiritual practice.
The PTI news agency said that initial post-mortem reports carried out on eight of the bodies have confirmed death by hanging. The reports also say Narayan Devi died from "partial hanging" - though it is not clear why she has no rope around her neck.
The final report is still awaited.
Is there any truth to the 'spiritual' theory?
It's hard to say at this point.
According to PTI, one of the notes they found said: "The human body is temporary and one can overcome fear by covering their eyes and mouth."
"We have found handwritten notes detailing how hands and legs are to be tied and are quite similar to the manner in which the bodies of 10 persons were found. They are exhaustive notes and we are studying them," deputy police commissioner Alok Kumar is quoted as saying.
Police also told PTI that the notes seemed to suggest that this "ritual" would lead to "moksha", the Sanskrit word for salvation, which was referred to several times.
The neighbours, who described the family as devout, also said that they knew of no evidence to suggest that they were members of a cult.
Sujata Bhatia, Narayan Devi's daughter who lives elsewhere, told PTI: "I can't believe that they committed suicide. Everyone was so happy. Someone has killed my family and the police have to find them."
How have Indian media reacted?
The deaths - and the mystery surrounding them - quickly made national headlines and continue to attract media attention.
News channels have been flashing images and videos of the family that have been found on social media - including one of them dancing together at Priyanka's engagement.
Speculation is rife with news reports referring to the Chundawats' home as a "death house" and the notes as a "murder manual".
Television crews have also been swarming the neighbourhood of Burari, ostensibly looking for clues - some appear to be baffled by the presence of 11 pipes protruding from one of the walls of the house. They appear to believe that it's not a coincidence that the number of pipes equals the number of people who have died.