Mughalsarai: Renaming British-era train station causes Indian political storm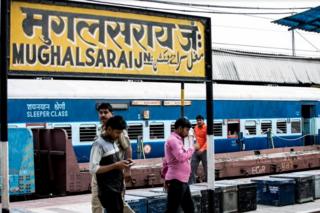 Mughalsarai, an iconic British-era railway station, has played an important role in India's transport history since its construction in the 19th Century. But it has been in the news recently for an entirely different reason - its name, writes the BBC's Vikas Pandey.
The British built the station in 1866 to help them transport goods from northern India to port cities in the east.
They named it after the town Mughalsarai and recruited hundreds of locals. In the following decades, the town and the station became synonymous with travellers and transporters.
Veteran journalist Mark Tully, who has written several books about India, said the station was known as a major transportation hub and Asia's largest railway yard.
A train passenger's view of India
'Custodians' of India's vast rail network
"In the days of the Raj, Mughalsarai was one of the most important stations on the East Indian Railways trunk route, coming as it did about halfway between Howrah in the east and Delhi in the north," he said.
But more than 150 years later, the same name has stirred up political controversy.
The Hindu nationalist Bharatiya Janata Party (BJP) government in Uttar Pradesh state has decided to rename the station after its ideologue Deendayal Upadhyaya, whose body was found at the junction in 1968.
Authorities said all signboards would be renamed in the coming months.
But opposition parties have accused the BJP of "tinkering with history" by changing the name of an iconic station.
BJP MP Ram Charitra, who is from the region, sees nothing wrong in the decision.
"Upadhyaya is one of the most prominent philosophers of modern India and I don't think we need to defend the decision to name the station after him," he said.
'Victory for Hindus'
But the motive and the message behind this decision seem very different for ground-level workers of the BJP, and other right-wing organisations that support the party.
Pankaj Sharma, a member of the BJP in Mughalsarai, sees the decision as a "victory for Hindus".
"Mughalsarai is a Muslim name. Mughals were Muslim rulers and they killed so many people in India - why should any place be named after them? I am glad that the name of the station is changing," he said.
Golu Sinha, a member of Vishwa Hindu Parishad (Global Council for Hindus), said: "Anything that resembles Muslim barbarity on Hindus needs to go away".
Others around Mr Sinha gave him a loud cheer as he finished his sentence on an emphatic tone.
The issue has also generated a debate, though a more nuanced one, at Banaras Hindu University (BHU) - which is located around 22km (13 miles) from Mughalsarai.
Professor Manjeet Chaturvedi, the head of sociology department at the BHU, explained why some BJP workers might have "a skewed sense of history".
"The Mughals ruled India in most of 16th and 17th centuries. They travelled far and wide, and built several resting places - known as sarais - on important routes. Mughalsarai was one such place," he said.
He added that some people still see Mughals as "Muslim invaders and not rulers".
"So I am not surprised that the name change has been politicised. In my opinion, the decision is not wrong because Upadhyaya is an icon and he needs to be honoured. But it's awful to make it a Hindu-Muslim issue," he said.
Stories you may also be interested in:
Battle of ideologies
Professor Pradeep Kumar of the BHU's law department said the government knew that it would benefit from the decision.
"I am in no doubt that it's a political decision. The Congress party named several places after the members of the powerful Nehru-Gandhi family whenever it was in power. The BJP is simply following the norm - though with a more astute agenda," he said.
He added that party is "killing two birds with one stone".
"The BJP, which didn't even come close to ruling India until 1996, seems desperate to rewrite history and leave its impression, specially under the leadership of a vocal leader like [Prime Minister] Narendra Modi.
"And when it changes a Muslim name like Mughalsarai, it definitely stands a chance to gain the votes of Hindus sympathetic to its cause in the upcoming general elections next year."
Mr Tully echoed similar thoughts.
"The only thing the government seems to me to have gained is to indicate that it's not prepared to have a Muslim name for such an important station as Mughalsarai. If the name was to be changed to celebrate a distinguished son of India, it would have been much more appropriate to name Mughalsarai after [former PM] Lal Bahadur Shastri, who was born there and was also a distinguished railway minister.
"On the other hand Deendayal Upadyaya's connection with Mughalsarai is most unfortunate. He fell to his death from a train approaching Mughalsarai Junction. It is believed that robbers pushed him out of the train."
But Mr Charitra asserted that the BJP was not targeting Muslim names.
"It's unfortunate that some of our ground-level members and opposition parties think like that. We need to train them better. We are simply honouring heroes the Congress ignored for decades. Such decision should not be seen through a political prism," he said.
What do locals think?
The residents of Mughalsarai feel that there are bigger issues than the name of their railway station.
Manorama Devi, who works as a cleaner at the station, said the name doesn't matter.
"I want the facilities to improve at the station. The employees should be paid better wages," she said.
Mohamed Akram, who also works as a cleaner, said: "It's never a good idea to change history".
"For us, Mughalsarai will always be Mughalsarai. There are other ways to honour great people than changing names of iconic places," he said.
His colleague Amar Nath agrees.
"Mughalsarai is one of the biggest and busiest stations in India. Just because a political party is in power, it shouldn't be allowed to change the name," he said.
"Generations have known the station and have memories from their travels here. For them, the station will always be Mughalsarai. Just the way they changed the name of Bangalore city to Bengaluru, but people still call it Bangalore."