Mother Teresa India charity home 'sold babies'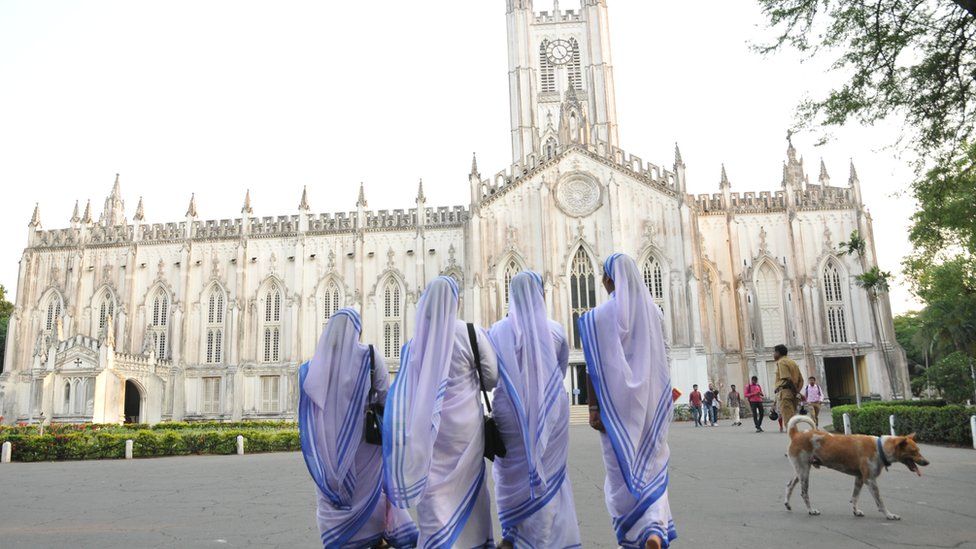 A woman working at Mother Teresa's Missionaries of Charity in the eastern Indian state of Jharkhand has been arrested for allegedly selling a 14-day-old baby.
Two other women employees from the centre have been detained and are being questioned about other possible cases.
Police took action after the state's Child Welfare Committee (CWC) registered a complaint.
The charity said the incident had "shocked" its members.
"We are shocked to know what has happened in our home... It is completely against our moral conviction. We are carefully looking into this matter. We will take all necessary precautions that it never happens again, if it has happened," Sunita Kumar of the Missionaries of Charity told the BBC.
Police officials said they were widening the scope of their inquiry.
"We have found out that some other babies have also been illegally sold from the centre," a police official told BBC Hindi's Niraj Sinha. "We have obtained the names of the mothers of these babies and are further investigating."
Police also recovered 140,000 rupees ($2,150; £1,625) from the centre, which is located in Jharkhand's capital, Ranchi.
Nobel-laureate Mother Teresa, who died in 1997, founded the Missionaries of Charity in 1950.
The sisterhood has more than 3,000 nuns worldwide. She set up hospices, soup kitchens, schools, leper colonies and homes for abandoned children. The Missionaries of Charity also runs centres for unmarried pregnant women but no longer arranges adoptions.
India's changing adoption rules
By Jill McGivering, BBC News
Legally adopting a baby in India can take from a few months to years. Each year, only a few thousand adoptions are formalised - a fraction of the number of those wanting to adopt. Informal estimates of the number of children who are abandoned or unwanted run into tens of thousands.
In October 2015, the government changed the rules. It took the system online, with a national database of available children. Supporters say this made the process faster and more transparent and allowed prospective parents to find children anywhere in the country.
But some adoption agencies opposed the changes, which reduced their involvement in the process of matching couples and children. The Missionaries of Charity ended its own involvement because it opposed adoptions to single women or unmarried couples.
There's a long-standing stigma associated with adoption in India. In the past, many were arranged informally within extended families. But concerns persist that couples wanting to adopt may find it easier to turn to the black market and adopt directly from hospitals or orphanages which are not part of the legal system. This may also fuel the trade in child trafficking, still a major concern in India.
"We are currently investigating the sale of a newborn baby to a couple in Uttar Pradesh for 120,000 rupees," CWC chairman Rupa Kumari told the BBC.
"But the couple was told that the money was for hospital expenses."
The baby, a boy, was born to a young woman who arrived at the charity on 19 March, and was sold to the couple on 14 May, Ms Kumari said.
Ms Kumari added that the committee should have been informed when the pregnant woman was taken to hospital. She said the committee had discovered that other babies were sold to people in different cities for 50,000-70,000 rupees.
The CWC has transferred 13 pregnant women who were living in the missionary's Ranchi centre to a different location.
Prospective parents have been known to buy babies illegally in India because of the tough laws and long wait to adopt. During the 2015-2016 financial year, there were only 3,011 legal adoptions, against a waiting list of 12,000 couples.