India scraps tampon tax after campaign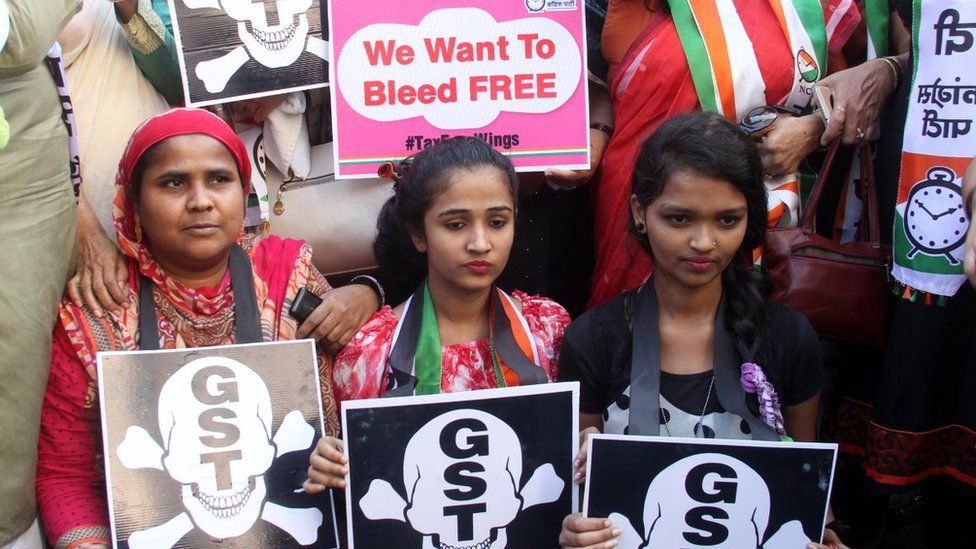 India has scrapped its 12% tax on all sanitary products following months of campaigning by activists.
The announcement comes a year after the government introduced the tax, known as GST, on all goods - including the 12% duty on menstrual hygiene products.
Campaigners argued the tax would make them even more unaffordable in a country where an estimated four out of five women and girls already have no access to items like sanitary pads.
The news was welcomed by campaigners.
Surbhi Singh, founder of Sachhi Saheli, a menstrual health awareness charity, told the Thomson Reuters Foundation: "This was a most-awaited and necessary step to help girls and women to stay in school, their jobs, to practise proper menstrual hygiene.
"This will help them to grow, to show their true potential."
Periods are one of the leading reasons why girls drop out of education in India, while many others are forced to stay at home because they can't access sanitary products.
Some women use cloth or rags - which, if not clean, can increase the risk of infections.
It was known as Lahu ka Lagaan in Hindi, which translates as "blood tax".
The announcement their campaign had been successful was made by India's interim finance minister, Piyush Goyal, who said he was "sure all mothers and sisters will be very happy to hear that sanitary pads are now 100% exempt from tax".
Campaigner Amar Tulsiyan, founder of Niine Movement, went further, saying it was "a big win for everyone" in India.
Period poverty is not only a problem affecting women in India. According to charity Plan International UK, one in 10 disadvantaged girls below the age of 21 cannot afford sanitary products.
The UK still has a 5% tax, despite campaigners calling for it to be scrapped.