Death sentences for Indian police torturers welcomed by victim's mother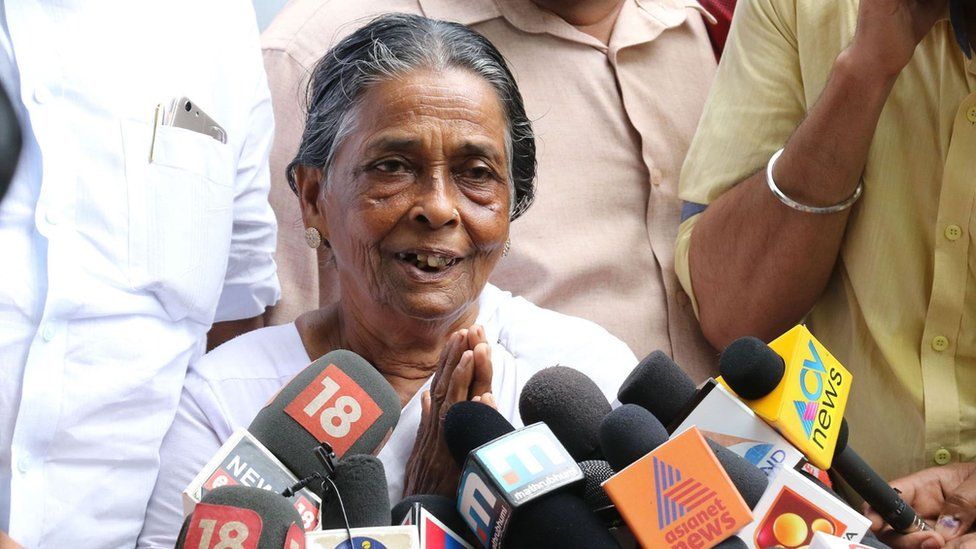 Death sentences awarded to two Indian police officers found guilty of killing a man in custody have been welcomed by the victim's mother.
"God has heard a mother's prayers," said Prabhavathi Amma, who spent 13 years fighting the case in the southern state of Kerala.
A special court found the two officers guilty of torturing a man to death after arresting him for theft.
These are the first death sentences given for a custodial death in Kerala.
One more officer had also been found guilty of the crime, but died before the sentence was pronounced.
The court also sentenced two senior officers to three years in prison for attempting to cover up the murder.
Udaykumar, the 26-year-old victim, a daily wage labourer, was detained on 27 September 2005 on suspicion of being a thief, after he was discovered with a sum of 4,000 rupees (£44; $58) at a park in Trivandrum city.
The police released him after pocketing the money, but he refused to go as he had promised to buy his mother a gift for the state's annual Onam festival, a harvest celebration.
He was "brought dead" to a hospital later the same evening.
The doctors who conducted the autopsy found internal injuries as a result of third-degree torture.
"They killed him during an Onam 13 years ago. Now they will spend their Onam in prison. No court will pardon them," said Ms Prabhavathi, after Wednesday's verdict.
"He left for work, and I was waiting for his return the whole night. My wait for justice ends today, and I hope other such victims will also get justice soon," she added.
The judge rejected a plea from the policemen for their death sentences to be commuted, saying it was a "rarest of the rare" case that deserved death.
"Law enforcers are protectors of life and property and not traders of death. They had killed an innocent person in their custody," he said, adding a strong punishment would act as a deterrent against torture and deaths in custody.
"It has severely eroded public trust in law enforcement."