India matchmaker apologises for "sexist" ad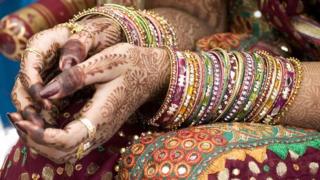 An Indian matchmaking service has apologised after it was criticised for an advertisement that categorised "beautiful girls" as "young achievers".
The advert was for an event which was trying to bring together "highly successful young achievers" and people from "ultra-rich families".
It was carried out on the front page of a national daily and went viral online.
It is common for matrimonial agencies to organise events in India, where arranged marriages are still prevalent.
The advertisement listed their ideal clientele, which included a "young achievers" category inviting entrepreneurs, professionals, graduates from top universities and "beautiful girls".
After the advert appeared on Wednesday, people criticised it for being "sexist", "classist" and "elitist".
Many criticised it for listing beauty as an achievement for young women.
Many Indian Twitter users also condemned the Hindu newspaper for its decision to publish the advert.
The company, called the Young Achievers Matrimony, carried out an apology in Thursday's newspaper saying the use of "objectionable language" in the ad was "unintentional".
The BBC reached out to the organisers but they refused to comment.
The Young Achievers Matrimony Meet is scheduled to take place in the southern city of Bangalore on 12 August.
Several matrimonial services organise such events across the country to bring together like-minded individuals. Most Indian newspapers also have a section dedicated to adverts that facilitate arranged marriages.