Karunanidhi health: Tamil Nadu former chief minister in hospital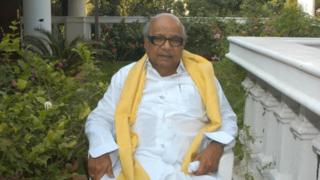 Massive crowds have gathered outside a hospital in southern India's Tamil Nadu state where a politician who has served as chief minister five times was admitted on Saturday.
Muthuvel Karunanidhi, 94, is being closely "monitored and treated" in the intensive care unit.
Doctors say he has made some improvement after an apparent urinary tract infection.
But police are struggling to contain emotional crowds desperate for news.
After 50 years as the leader of India's DMK party, he has amassed a huge following in India, and enjoys a god-like status among his supporters.
The 94-year-old politician was first admitted to hospital in the city of Chennai on Saturday night, following a drop in his blood pressure, according to a statement posted on his Twitter account.
There was a "transient setback" in his clinical condition on Sunday night, but Mr Karunanidhi's vital signs are now said to be "normalising".
Just days ago he underwent a procedure to change his tracheostomy tube to help him in breathing.
He is often compared to his former rival, the ex-chief minister of Tamil Nadu, Jayaram Jayalalitha, who passed away in 2016 after suffering from a heart attack.
Her death was mourned by tens of thousands of people, and marked by a seven-day mourning period in Tamil Nadu.