Vijay Mallya: India tycoon to learn extradition fate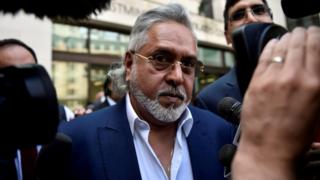 Indian drinks tycoon Vijay Mallya is due to find out whether or not he will be extradited from the UK to India, where he faces charges of fraud.
Mr Mallya, who left India in March 2016 after defaulting on debts worth more than $1bn (£785m), will appear in a London court on Monday.
He denies "fleeing" from India, and says he made an "unconditional" offer to pay back the sum in full in July.
The flamboyant businessman's fall from grace is being avidly tracked in India.
The case is being heard at the Westminster Magistrates Court.
The lawyer for the Indian government told the AFP news agency that the focus of their case was on his conduct and how he allegedly misused banks.
Speaking to reporters ahead of the verdict, Mr Mallya said he had consistently offered to pay back the sum owed since July and that he would take "appropriate steps" after the judgment.
Mr Mallya built his fortune from Kingfisher beer, before branching out into Indian cricket and Formula 1 racing. He set up the now defunct Kingfisher Airlines in 2005.
He faces a raft of charges relating to financial irregularities at Kingfisher Airlines. His monetary affairs are being investigated by India's Central Bureau of Investigation and the Enforcement Directorate, which handles financial crimes.
In 2012, he sold a majority stake in his United Spirits group to UK drinks giant Diageo. The deal was supposed to help Mr Mallya reduce United Spirits' debts and free up funds for Kingfisher Airlines.
But the airline, which was grounded in 2012, lost its flying permit the following year. It made annual losses for five years in a row and finally collapsed after lenders refused to give it fresh loans.
Mr Mallya's total debts, including unpaid wages and operating costs, are estimated to exceed $1bn.
He is a flamboyant figure who has in the past been called "India's Richard Branson" and the "King of Good Times" for his lavish lifestyle. A BBC article in 2016 compared him to Donald Trump saying he was "less pugnacious than Trump, but he has invested in a one-man brand to project the billionaire lifestyle".
In May 2017, India's Supreme Court found Mr Mallya guilty of contempt of court. He was accused of transferring $40m, which he received in severance pay from Diageo, to his children in "flagrant violation" of various court orders.
A court had blocked the $75m payment in March 2016 after creditors demanded it be used to settle Mr Mallya's outstanding debts, but $40m had already been transferred.