India monsoon floods kill 73 in Kerala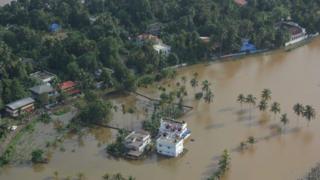 Flooding caused by heavy monsoon rains in the southern Indian state of Kerala has killed at least 73 people, shut down an airport and displaced more than 85,000 people, officials have said.
The state government said many of those who died were crushed under debris caused by landslides.
The Cochin International Airport, one of India's busiest, has been shut until 26 August due to a flooded runway.
India's meteorological department has issued a "red alert" in the state.
Rescue operations are under way and the federal government has sent additional forces to assist local efforts.
"We're witnessing something that has never happened before in the history of Kerala," Chief Minister Pinarayi Vijayan told reporters.
"Almost all dams are now opened. Most of our water treatment plants are submerged, motors are damaged."
He added that the failure of the state government of neighbouring Tamil Nadu to release water from a dam had made the situation worse.
Kerala has 41 rivers flowing into the Arabian sea.
On Wednesday alone, the state reported 25 deaths, with officials warning that the toll was likely to rise.
India's Prime Minister and Home Minister have both offered federal support to the state.
Schools in all 14 districts of Kerala have been closed down and some districts have banned tourists citing safety concerns.
Reporting by Ashraf Padanna
---
'I opened the door and water gushed in'
By Pramila Krishnan, BBC Tamil
Shabbir Saheel, 33, still shudders as he recalls how he carried his two-year-old daughter on his shoulders as he waded through flooded streets.
His wife, Jasmine, says she is worried about their future as they had to evacuate their home in a rush.
The couple are now living in a large community hall, which has been converted into one of the relief camps on the outskirts of the city of Cochin. It currently houses some 450 people, including 100 children. Camp officials are providing hot food and medicines to prevent infections.
"There are heavy rains every year but the city has never been flooded so badly," says Mini Eldho, a district official, who is also living in the camp.
Ms Eldho says she is worried because she doesn't know how many people are still waiting to be rescued. She says many families are refusing to leave their valuables behind.
Krishna Jayan, 58, she was at home sleeping when her friends woke her up. "I opened the door and water gushed in," she says. "When we stepped into the street, we were neck-deep in water."
She says locals had tied ropes along the streets to help people walk through the water. That's how she and her friend were able to reach the bus that brought them to the camp.
---