How Indians are using social media to help flood-hit Kerala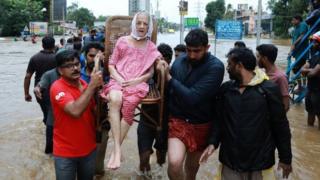 Indians from different parts of the country are using social media to help people stranded in the flood-hit southern state of Kerala.
Hundreds have taken to social media platforms to co-ordinate search, rescue and food distribution efforts and also to reach out to people who need help.
More than 350 people have died and thousands are marooned due to the worst flooding in Kerala in a century.
Monsoon rains have eased for now and rescue efforts are being stepped up.
Sandhya Menon has taken to Twitter and Instagram to organise relief efforts and she says that the response has been "incredible".
"I've raised about 0.8 million rupees (£10,000, $12,775) since Friday," she says. "It's astounding to see the generosity of strangers."
Ms Menon added that employees from Uber India and Grofers, an online grocery delivery service in India, also reached out to her after seeing her tweets.
"In terms of rescue efforts, we don't actually know how much help reached but our job is to pass the message," says Dhanya Rajendran, an Indian journalist who has been constantly tweeting about the intensity of the floods and mobilising people on social media to send help in different ways.
"Social media has been a boon. It's definitely helping in collection, distribution and transportation of relief material," she added.
But Ms Rajendran says that rescue operations have been slower because of bad network connectivity in most districts in the state.
"We have to rethink as to how our networks fail in times of crisis."
Several people are tweeting about and leading focused efforts for collecting urgently needed items including sanitary napkins and baby food.
Some have opened up their homes for people from Kerala who may have been stranded in other cities because of the floods.
"Since it was the weekend, it occurred to me that people from Kerala who work in Chennai may have finished work and may have to return to their homes," said Kingsly Rajkumar, who wanted to help people by accommodating them in his house in neighbouring Chennai.
While no-one has contacted Mr Rajkumar for help yet, he hopes that his tweet reaches those in need.
"I got the inspiration mainly from the Mumbai floods a few years ago. People were accommodating strangers and I thought I should do that too."
Indian social media is flooding with posts about the Kerala floods informing people about avenues to donate and to help out in any way they can.
Several others with high social media followings including Bollywood actors Farhan Akhtar and Amitabh Bachchan are tweeting about relief efforts and urging people to donate money through different online relief funds.
For Ms Menon, Twitter is the most effective way to reach out to people and she attributes her success in collecting funds and relief kits for Kerala flood victims to her "decent Twitter following".
"You go up to people with higher follower count and ask them for a signal boost in such situations," says Ms Menon. "That helps massively."