India's 'biggest' pet rescue operation in Kerala floods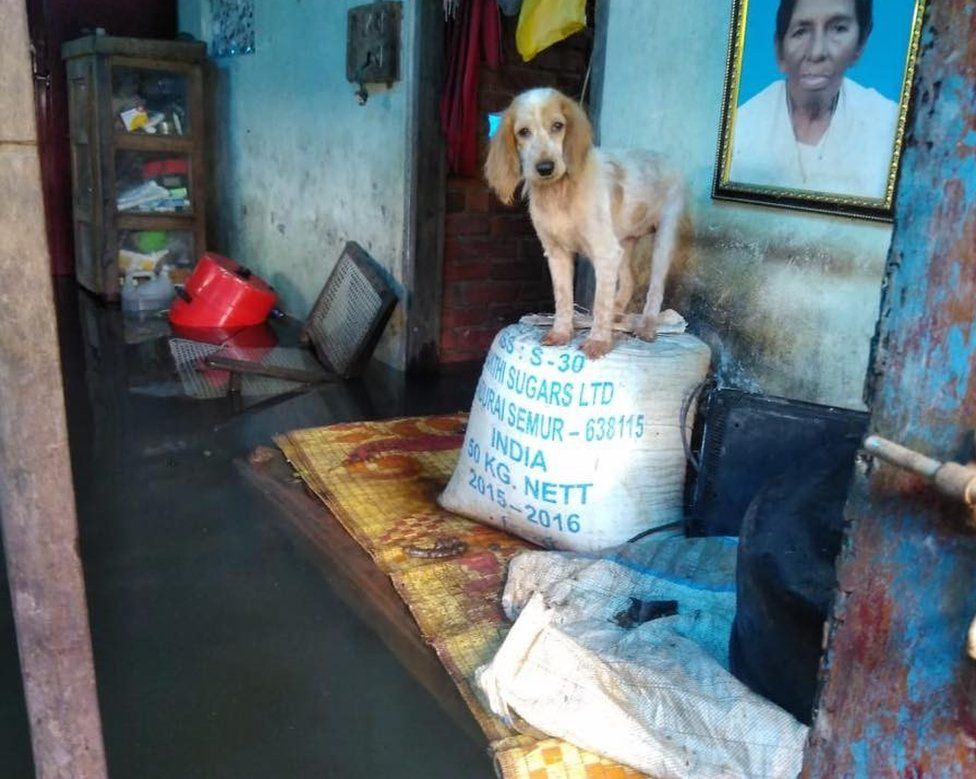 When rescuers in India's flood-ravaged southern state of Kerala reached a flooded hut in the city of Thrissur, the couple living there refused to leave without their 25 dogs.
The water was rising, and the dogs were huddled on a single bed. The rescue workers had arrived on boats, and Sunitha, who uses only one name, flatly told them she and her husband would not leave without their stray and abandoned pets.
"Our neighbours had been moved to schools and camps nearby. Rescue workers said that we could not bring our dogs to the relief camp," she said.
So the workers went back and got in touch with an animal rescue group.
Sally Varma of Humane Society International told the BBC that their volunteers arrived soon, and arranged for the dogs to be taken to a special shelter for affected animals.
Ms Varma said she has started a fundraiser for the family and its pets so a kennel could be built at their home after the floods recede.
Nearly 400 people have died in the worst flooding Kerala has witnessed in a century. Thousands remain stranded.
More than one million people have been displaced, with many of them taking shelter in thousands of relief camps across the state.
But what is striking is how hundreds of animals are being rescued in the affected areas.
In what appears to be one of the biggest animal rescue operations during a natural calamity in India, hundreds of volunteers and animal rescue workers have travelled to flood-affected areas.
Social media is awash with dramatic rescue videos: a rescuer removing his life jacket and putting it on a Labrador to help it swim to higher ground; drenched dogs being taken out of flooded homes and kennels; and country boats and inflatable rafts carrying dogs, goats and cats to safety.
Rescuers have waded through water, and travelled on boats and rafts to treat, feed and rescue hundreds of animals - dogs, cats, goats, cows, cattle, ducks, and even snakes - as the waters have begun receding. Trucks with animal feed and medicines are reaching affected districts.
Some animals have been moved to shelter camps, and others to higher ground. A number of animal rescue help lines have been set up, and rescuers are using WhatsApp and social media to respond to calls.
"We are getting more than 100 calls a day on our helpline. The number of animals that have been moved to higher ground and rescued must be in hundreds," Anand Shiva of Kerala Animal Rescue said.
When the flood waters rose, most people tethered their pets and animals and left or were rescued. When they reached the shelter, they broke down and told rescuers that they had left their pets behind.
"That became a problem. So many tethered animals just drowned. These animals are natural swimmers, and it is better to keep them free so they can swim to higher ground," NG Jayasimha of Humane Society International, which has rescued more than 100 animals, said.
In Thrissur alone, rescue workers found 200 cattle tethered in small sheds in people's homes before they were untied and taken to higher ground.
Kerala, according to one estimate, has a million dogs and a third of them are free roaming strays.
More than 23,000 people were bitten by dogs in 2015, and nearly half of them contracted rabies.
Animal rights groups had then complained that cash-strapped municipalities and irate citizens were poisoning, clubbing, beating, shooting and electrocuting strays to control their population.
"But there's a genuine love for dogs in the state, contrary to public perception. Otherwise we wouldn't have found so many dogs in people's homes," said Mr Jayasimha.
More than 8,000 cattle, calves and buffaloes, 3,297 goats and 47 dogs have died in the floods, according to the government.